John Bowen Readies Solaris Synth For Fall Release
John Bowen has revealed that the first production of his Solaris synth is ready to roll off the assembly line sometime during September 2008, with delivery in October. Announced at the 2007 Frankfurter Messe, the Solaris was designed for sound designers, film composers and synthesists who require a complex and sophisticated sound.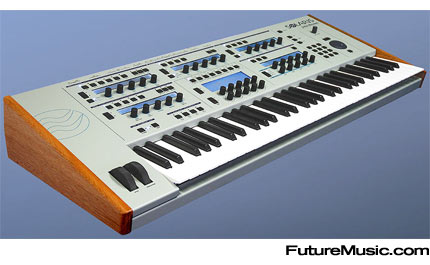 Features:
» 4 Oscillators, each with several types available: MultiMode, WaveTable, CEM, WAV (sample playback), VS (single cycle waves), SuperSaw
» 4 Filters, each with a dedicated Mixer. Filter types are: Ladder Lowpass, 24, 12, 6, dB, Highpass 24, 12, 6 dB, Bandpass 24 dB, Comb (2 types), State Variable 12 dB LP, HP, BP, and Notch
» 2 Vector Mixers, 2 Rotors (special 4-step waveshape sequences), 2 AM sections (includes Ring Mod)
» 6 DADSRs, 2 8-stage loopable envelopes
» 4 free LFOs, 1 Vibrato LFO. Each has delayed start, fade in, and fade out times, key sync and Phase control
» Phaser, Chorus, Flanger, Delay, Overdrive, 3-band EQ effects
John Bowen's Solaris costs $3599 / €2400 direct; pre-order deposits are now being accepted. More information on the John Bowen Solaris.