Godlyke Announces Chunk Systems Octavius Squeezer – Hybrid Digital/Analog Bass Synthesizer
Godlyke, an Australian concern, has announced the Chunk Systems Octavius Squeezer, an analog bass synthesizer. The Octavius Squeezer is an analog/digital hybrid bass synthesizer, housed in a compact stompbox format, which has an analog audio path that features a variety of synth, octave, fizz, and filter effects.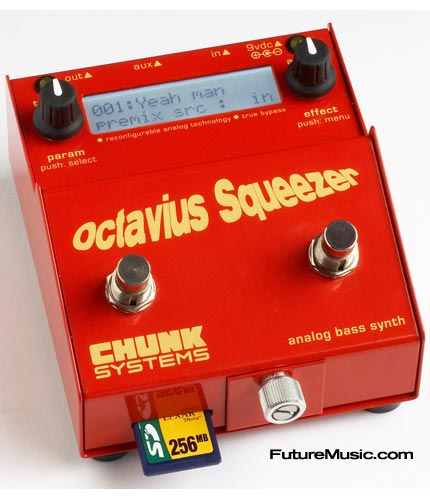 The Squeezer contains a digital preset system that allows constant reconfiguration of the audio signal path and storage of parameter settings as well as an on-board tuner and tap-tempo metronome.
Features:
» Wide range of synth, octave, envelope filter, fizz and other effects
» True bypass – input is connected directly to output by a mechanical relay when switched off
» True analog signal path with reconfigurable analog technology
» Over 50 digital onboard presets with bank organization for easy selection
» SD card socket allows you to save/load additional presets, upgrade firmware, etc.
» Analog two pole lowpass and bandpass filter circuit
» Analog fuzz circuit
» Digital pitch tracking with advanced harmonic rejection
» Analog waveform synthesis
» One octave down, one octave up and two octaves up synthesis
» Runs from a single 9V battery or external power supply (not included)
» No-tools battery drawer
» Sturdy steel case
» Two user-assignable foot switches and two digital control knobs
» Backlit two-line, 16 character LCD and blinking tempo LED
» Auxiliary output for click tracks and Agent OOFunk Mark II envelope input
» On-board Tuner
» Metronome and beat-locked effects with tap tempo mode
» 3-year limited warranty
Godlyke's Chunk Systems Octavius Squeezer is available now for $599. More information on the Godlyke Chunk Systems Octavius Squeezer For Bass.