Tom Bugs Releases New Batch Of Weevil08 Synths
Tom Bugs of Bug Brand fame has released 18 new Weevil08 synths. The Weevil08 synth contains three lo-fi oscillators "quasi-ringmodulated together" with PowerStarve, Filter, 9-point-TouchPlate and an internal MiniAmp.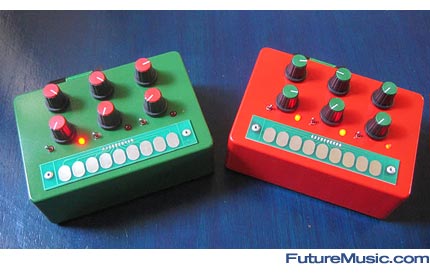 Each Osc has a range switch for Hi tones or Lo clickety, and the combination of PowerStarve and responsive TouchPlate opens up a vast array of sounds that are played unlike any other instrument. The internal MiniAmp is now a standard feature and gives a pretty different tone/response from the output jack. Plugging in a jack conveniently disconnects the internal MiniAmp.
This is a newly standardised version built with pro-PCBs for improved feel and replicatability, available in Green or Red with chunky knobs in a sprayed plastic case and running off a single 9V battery. If you think this is up your alley, better order immediately Tom's unique synths sell out rather quickly these days. If you do come up empty handed, Tom has also released some T-Shirts…
The Bug Brand Weevil08 costs £100 plus shipping, and comes in Red or Green. More information on the Bug Brand Weevil08 synth.