Auricula Releases Five Ear Training Plug-Ins For Mac
Auricula has released five new plug-ins that they claim train you to become a better listener. Helix, Helix Pro, Incus, Malleus, and Stapes are said to improve your ability to hear processing like EQ, filters, delay, gain changes, alterations to the stereo field and much more.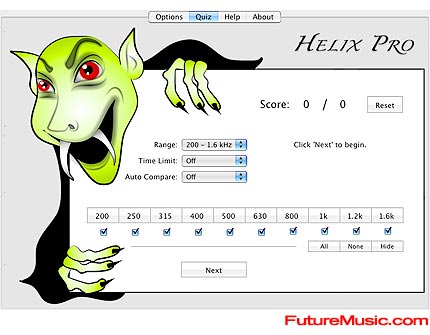 Recording engineers need highly developed and specialized listening skills. Typically, these skills are acquired through years of practice, often with the assistance of one or more mentors. With so much music being self-recorded, self-produced, or created outside the mainstream, the traditional path to golden ears may be a rocky road or not available at all for many now involved in this process.
Auricula's approach is to train ears via a quiz mechanism. The plug-in automatically makes some change to your sound — you are then given a chance to listen critically — then you respond with what you think the correct answer is. You are then shown the right answer and a running score is kept. You make each exercise as easy as you need to and increase the level of difficulty as you progress, all the way to insanely difficult if you are so inclined.
All plug-ins are available in Apple's AudioUnit (AU) format and require OS X 10.4 or 10.5. Since they are plug-ins, a compatible host is also required, such as GarageBand. Other compatible hosts include Logic Pro, Logic Express, Soundtrack Pro, and Wave Editor.
Auricula's plug-ins cost $1.99 each to use through the end of the calendar year. All 5 plug-ins can be purchased in a bundle for only $8.99. The plug-ins work in a 'demo' mode, but to have access to all the available features the plug-ins must be purchased and authorized. More information on Auricula's Ear Training Plug-Ins.