RJM Music Technology Releases MasterMind – MIDI Foot Controller
RJM Music Technology has released the MasterMind, a new MIDI foot controller. RJM claims the controller requires virtually no setup or configuration for simple rigs, yet has many configuration options available if the user needs to control a large, complex rig. The MasterMind also features phantom power support and the ability to connect multiple MasterMinds and have them synchronized together.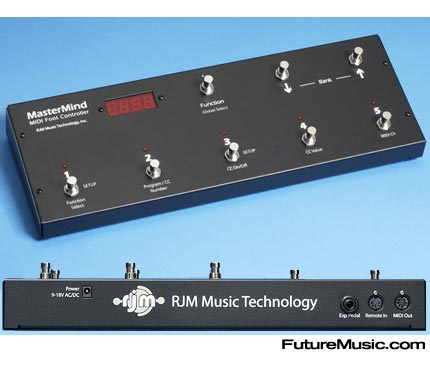 Features:
» Plug and play operation with other RJM products
» Program Change and Continuous Controller message support
— (4 PC and 8 CC messages per preset, all on different MIDI channels)
» Expression pedal input
» 125 presets, arranged in 25 banks of 5 presets
» A Function switch that can send Continuous Controller messages, or can activate the "alternate preset" capability of the Amp Gizmo and RG-16.
— (Note: the original Amp Gizmo (with the black front panel) is not compatible with the alternate preset feature. Only the new silver face Amp Gizmo supports the alternate preset feature.)
» Phantom power capability when using a 7 pin MIDI cable
» A Remote In jack, which allows the synchronized use of multiple MasterMind controllers on stage
» Rugged 18 gauge steel enclosure
» Flexible power requirements: 9V-18V, AC or DC, 200mA
» Dimensions: 16″W x 6″D x 2.75″H
» Weight: 3.9lb (1.8kg)
RJM's MasterMind is available now for $349.99. More information on the RJM MasterMind.