Glad Dog Software Unveils MIDI Virtuoso For Windows
Glad Dog Software has released MIDI Virtuoso Guitar Edition and MIDI Virtuoso Piano Edition for Windows. MIDI Virtuoso provides a new method of software-based MIDI sequence and play that is focused on simplifying the creation of complex musical parts. The new programs allow users with guitar fretboard or piano keyboard familiarity to compose and play complex MIDI parts.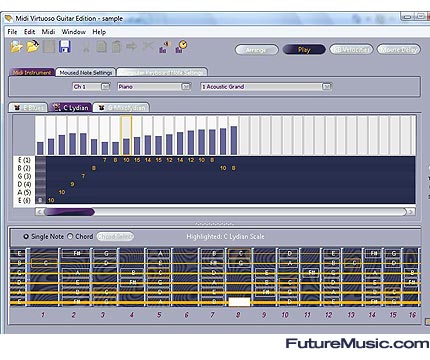 David Smith, founder of Glad Dog Software, elaborates, "we wanted to provide a simpler method for the recording or performing musician to flesh out and play complex, fluid MIDI-based parts. The traditional sequencing methodology of painting notes, starting the timeline and listening is not an active method. Many musicians have expressed the need for simpler and more controllable alternatives."
Notes are sequenced in a simplified tablature. No timing is implied in the sequence of notes itself. Timing, velocity and other nuances of human playing are applied by the musician using patent pending real-time playing technologies:
Every-Key Technology (with MIDI device input): When triggering notes from a MIDI input device, any and every key or pad pressed will trigger the next note or chord in the pre-established sequence. All nuances of velocity and expression applied via the input device are translated through and applied to the rendered notes.
Every-Key Technology (with Computer or Laptop keyboard input): When the computer keyboard is used for play mode, any and every letter or punctuation key pressed will trugger the next note or chord in the pre-established sequence. A velocity curve can be drawn. Glad Dog Software claims the musicality that users can unleash from a simple computer keyboard with MIDI Virtuoso is unlike anything else they may have experienced.
Trill-Pane Technology (Mouse input): A series of piano key-like pads are presented above the tablature or staff in the User Interface. They are mouse-activated. The pads are resizable and adjustible regarding characteristics such as the delay applied to sending note-off messsages. Dragging the mouse purposefully across a well-sequenced tablature's virtual keys creates complex and virtuoso-like musical parts.
The musician, using patent pending Every Key and Trill Pane technologies, "becomes the timeline" – the musician is in complete control of the musical rendering of the notes in a MIDI part, after sequencing. Timing, duration, and modulation of pre-sequenced notes are controlled in real time. A MIDI keyboard, computer keyboard and/or mouse can be used to control MIDI rendering of a sequence and to impart the nuances of real time performance.
Designed with the recording musician in mind, MIDI Virtuoso can be live-played into digital audio workstation projects, using a virtual MIDI cable, and rendered via virtual instruments. MIDI Virtuoso is useful in live performance situations when a laptop is placed in the MIDI path, either as the main controller or as a translator between keyboard/controller and sound module. With its keyboard and fret board marking features, MIDI Virtuoso also provides teaching/learning features for piano and guitar.
Glad Dog's MIDI Virtuoso for Windows is available in two editions, the Guitar and Piano, each cost $29.95. Save-disabled 15-use trial versions are available for download. More information on Glad Dog MIDI Virtuoso for Windows.