Heil Releases PR 22 – Dynamic Vocal Microphone
Heil has announced the PR 22, a new vocal microphone that the concern claims demonstrates "completely new dynamic microphone technology." Heil purports the PR 22 provides wide frequency range, low handling noise and the ability to handle +140 dB SPL for a wide range of professional applications.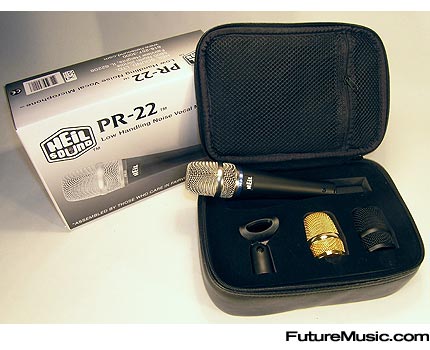 The microphone is usable in high sound pressure levels and can withstand overload conditions making it suitable for live vocal and instrument applications. The mic made its debut with Shelby Lynne on The Tonight Show with Jay Leno, and was recently featured on Gnarls Barkley's performance on Saturday Night Live.
The wide frequency response (50 Hz to 18 kHz) of the PR 22 posed challenges for Heil Sound engineers since conventional remedies for dealing with handling noise are to limit the usable bandwidth. Bob Heil comments, "My goal was to develop an internal suspension system that would eliminate the low frequency handling noise, but not sacrifice sound quality. Working with a suspension engineer who deals in ceiling fans and motor mounts, we came up with the IsoBand, a unique internal band of specialized rubber which brings an exciting new dimension to the dynamic vocal microphone."
In addition to the special magnet structure, the PR 22 achieves its performance by using a large 1 1/8″ low mass voice coil assembly with an internal sorbothane suspension system that has been designed to reduce the aforementioned handling noise. Special attention has been paid to the phasing plug assembly with equally placed ports that sense audio from behind, entering them out of phase. Thus, the PR 22 produces a linear cardioid pattern and reduces the proximity effect while achieving good articulation.
The PR 22 is supplied with a leatherette carrying bag, a mic clip and three metal wind screens: black, silver and gold.
The Heil PR 22 Dynamic mic is available now for $179. More information on the Heil PR 22 microphone.