Blue Cat Audio Releases Protector – Brick Wall Limiter Plug-In For Windows
Blue Cat Audio has released Blue Cat's Protector, a stereo brickwall limiter plug-in for Windows with adjustable dynamics response. It is designed to drop into the master bus of your DAW to protect your audio output from overshoot, limit the general volume and improve the perceived loudness.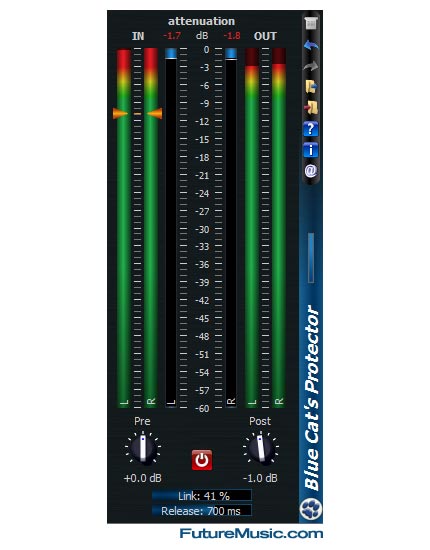 Despite its very simple set of controls, it offers a wide range of sounds and it is also suitable as a track limiter for more creative effects such as distortion, pumping or heavy limiting. Beyond its dynamics processing features, Protector also offers side chain capability with its MIDI CC output. This unique technique not only lets you do side chain limiting but also parameters modulation: control any parameter of any plug-in to create powerful side chain effects in real time.
Features:
» 0 dB stereo brickwall peak limiter and waveshaper
» Continuous control of the dynamics response from transparent limiting to colorful distortion
» Stereo link control
» Large audio levels and gain reduction meters for optimal monitoring
» Side chaining capability: a unique way to perform side chain compression and much more
» Plug-in window transparency management
» Smooth Bypass: activate/deactivate the plug-in with absolutely no noise
» Undo/Redo
» Import/Export presets and share them between the directX and VST versions
» Zero latency
Blue Cat Audio's Protector plug-in comes in the DirectX and VST flavors for Windows and is available on its own or within the Blue Cat's Master Pack plug-ins bundle for €89. A demo version is available for download, and for a limited time Protector can be purchased at the special introductory price of €49. More information on Blue Cat Audio Protector.