Audio-Technica Unveils AT2035 & AT2050 Condenser Microphones
Audio-Technica has unveiled the AT2035 Cardioid Condenser Microphone and the AT2050 Multi-Pattern Condenser Microphone. These new large-diaphragm, side-address mics join Audio-Technica's expanding 20 Series, known for its performance and versatility.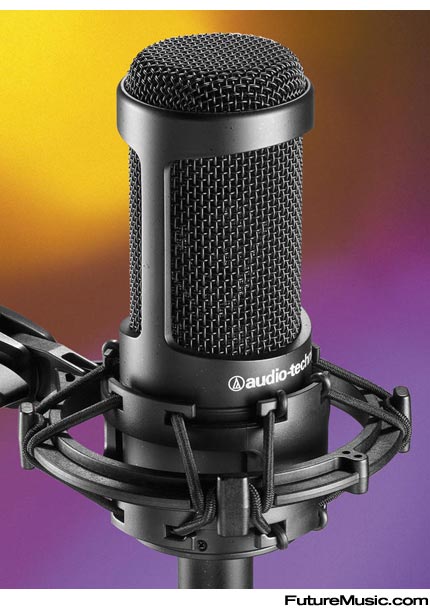 The AT2035 Cardioid Condenser Microphone is intended for a variety of applications, including overheads, acoustic instruments and guitar cabinets, it features a large diaphragm for smooth, natural sound and low noise. High SPL handling and a wide dynamic range offer versatility, and a custom shock mount provides isolation. The mic's cardioid polar pattern reduces the pickup of sounds from the sides and rear, improving isolation of the desired sound source.
The AT2035 has a fixed cardioid polar pattern and features a flat, extended frequency response (20-20,000 Hz); high SPL handling capability (148 dB, 158 dB with the 10 dB pad); and an element yielding low self-noise (12 dB SPL).
The AT2050 Multi-Pattern Condenser Microphone is ideal for studio use and live sound productions with vocals, piano, strings, overheads, guitar amps and more. It offers three switchable polar patterns: omni, cardioid and figure-eight. Its dual large diaphragm capsule design maintains precise polar pattern definition across its full frequency range (20-20,000 Hz). The AT2050 has the ability to handle high SPL's (149 dB, 159 dB with the 10 dB pad) with low self-noise (17 dB SPL). In addition, its dual diaphragms are gold-vaporized and aged to achieve optimum characteristics over years of use.
Both microphones feature a switchable integral 80 Hz high-pass filter and a 10 dB pad. The filter provides easy switching from a flat frequency response to a low-end roll-off. The high-pass position reduces the microphones' sensitivity to popping in close vocal use. It also reduces the pickup of low-frequency ambient noise. Output from each microphone's XLRM-type connector is low impedance (Lo-Z) balanced; each mic comes with a shock mount and a protective pouch.
The AT2035 Cardioid Condenser Microphone and the AT2050 Multi-Pattern Condenser Microphone will be available sometime in August 2008 for $249.00 and $369.00 respectively. More information on the Audio-Technica AT2035 and AT2050.