Voxengo Updates Overtone GEQ To Version 1.5
Voxengo has updated Overtone GEQ to version 1.5. Overtone GEQ is a free 7-band equalizer for Mac and Windows.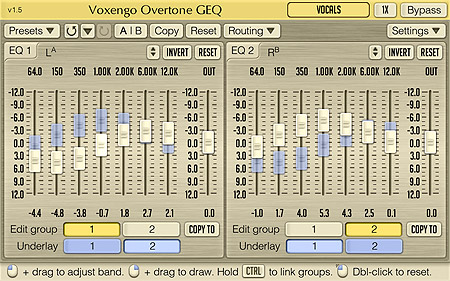 Enhancements:
» Various minor fixes
» "Tablet mode" global option added
» "Auto oversampling level" global option added
» Virtual keyboard implemented
» Channel group output soloing implemented
» Superfluous "Copy To" button removed
Overtone GEQ was designed to be a quick EQ shape adjustment tool for mixes and sub-mixes. During its operation, Overtone GEQ applies harmonic enhancement processing that the company claims "delivers a special touch and shine to the sound."
Features:
» 7-band graphic equalizing
» +/- 12 dB gain range per band
» 2 graphic equalizer views
» Multi-channel processing
» Internal channel routing
» Channel grouping
» Mid/side processing
» Complex harmonic coloration
» 64-bit floating point processing
» Preset manager
» Undo/redo history
» A/B comparisons
» Contextual hint messages
Voxengo's Overtone GEQ plug-in comes in the AudioUnit and VST flavors for Windows and Mac OS X computers, and is free. More information on Voxengo Overtone GEQ.