Numark Unveils All-In-One HDMIX DJ Rig
Numark has released the HDMIX, an all-in-one DJ unit that has slipped in under the radar. The HDMIX owes a few things to the ION iCD02KSP Digital DJ Station, a product line under the Numark umbrella, but takes that concept to the next level with advanced features.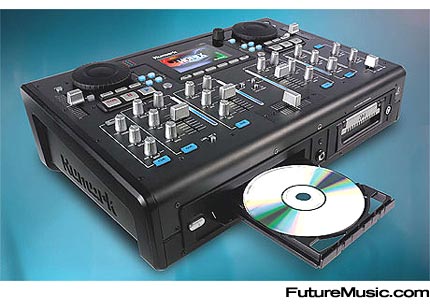 The economical all-in-one concept is compelling, especially if your little brother needs something to keep his grubby hands off of your gear. HDMIX has all of the DJ mixer features plus a CD player with standard controls. It's also an iPod and USB-device mixing station. And it's a computer that plays MP3 and other digital files from its removable, upgradeable hard drive.
HDMIX has been specifically designed for mobile DJs and individuals who need a compact, portable system that can be set up in a moment's notice. Two mic, two phono, and three line inputs, as well as balanced XLR and RCA zone outs enable you to connect anything you need to HDMIX.
Features:
» DJ mixer with CD and expandable playback options
» CD player plays CDs, MP3-CDs, and MP3-DVDs
» 80GB hard drive is replaceable and upgradable up to 1TB
» High-definition color LCD screen
» Three input channels, each with with EQ and gain
» Two USB ports for connecting iPods, thumb drives, and hard drives
» Two mic, three line, and two phono inputs
» XLR master and RCA zone outputs
» Scratch with MP3, WAV, and AAC (unprotected) files
» Massively-wide pitch control -100% – +25%
» Key Lock lets you independently shift tempo and pitch
» Jog wheels for seamless looping, pitch control, and scratching
» Text search, letter-pick scrolling, and on-board playlist creation
» Track search by artist, album, song, genre, and BPM
» Create custom playlists while performing
» Keyboard included for fast searching
» Beatkeeper technology for auto-syncing loops and samples; TAP override
» Transfer tracks between HDMIX and your Mac or PC via USB
Even though this product category may get passed over by many DJs, it certainly has legs and will continue to develop within Numark, and the industry as a whole, with more sophisticated multimedia features being implemented in future versions.
No pricing or availability has been officially announced, but expect a Christmas release. More information on the Numark HDMIX when it becomes available.