Fielding DSP Releases Reviver – Harmonic Distortion Plug-In For Mac
Fielding DSP has premiered Reviver, a harmonic distortion plug-in for Mac OS X. Fielding claims Reviver increases any signal's loudness and brightness, adds punch and fatness, and changes color and character by adding second and third order harmonic overtones. Unlike other distortion plug-ins, that often suffer from unwanted digital side effects, Reviver is alias-free and keeps your audio crisp and clean.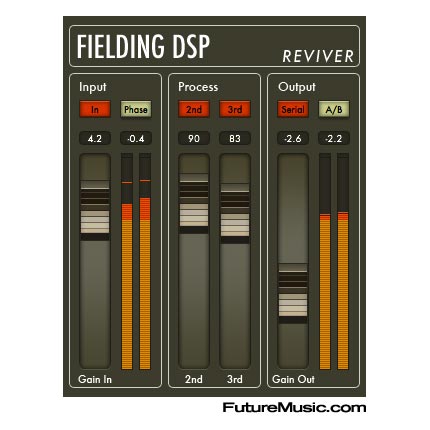 Harmonic distortion plays a key role in the sound of recordings. Hand in hand with the modernization of the recording process goes a reduction of harmonic distortion. Nowadays, transistors rather than tubes, hard disks rather than tapes, and plug-ins rather than analog devices are being used. By and by, the main sources of harmonic distortion were taken out of the recording chain. While this might be appreciated by the classical music business, in the popular music business the undistorted sound is often considered cold and thin.
By so-called internal upsampling, Reviver generates harmonic distortion without degrading the sound through aliasing, thus offering producers and engineers the possibility to benefit from all the advantages of recording digitally, like total-recall, saving money by not having to buy tapes, or saving time by editing the recorded signal with a computer mouse rather than a razor blade, without having to do without the warm and fat sound of analog signal processing. Reviver doesn't emulate the sound of a certain analog piece of gear; rather, it tries to give the user full control over the overtones to be generated and how loud they are to be.
Features:
» Supported sample rates: 44.1kHz, 48kHz, 88.2kHz, 96kHz, 176.4kHz, and 192kHz.
» Internal upsampling up to 768kHz (at 192kHz, Serial Mode)
» Individually designed upsampling and downsampling filters for all supported sample rates.
The filters designed for use with 44.1kHz have a pass-band ripple of about ±0.01dB and an attenuation of about 120dB. The filters for higher sample rates feature even better properties.
» Internal 32bit floating point processing
» Mono and stereo components
Fielding DSP's Reviver supports all AU-compatible hosts and will set you back $199. A demo version is available. More information on Fielding DSP Reviver.