PreSonus Unveils StudioLive 16.4.2 Digital Performance and Recording Mixer
PreSonus has unveiled the StudioLive 16.4.2 Digital Performance and Recording Mixer, a flexible sixteen-channel digital mixer with sixteen XMAX microphone preamplifiers, a built-in 22×18 FireWire recording and playback engine, "Fat Channel" processing with 4-band EQ's, compressors, limiters and gates, DSP effects, six aux buses, four sub-groups, extensive LED metering, talkback and much more.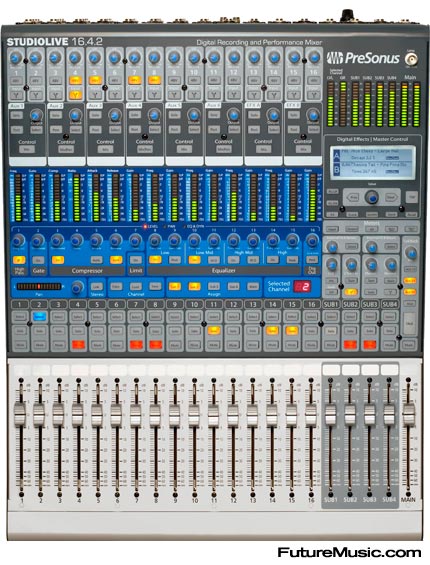 StudioLive integrates a powerful and easy-to-use digital mixer with a complete multi-channel recording system delivering a creative environment available for both live performance and studio music production.
Analog Inputs and Outputs
Sixteen class A, high-headroom, low-noise XMAX microphone preamplifiers are featured on StudioLive for clarity, transparency and musicality. All sixteen channels of StudioLive include line input, balanced inserts and balanced direct output. StudioLive includes six balanced auxiliary sends and two dedicated auxiliary effects sends for flexible monitor mixes and aux effects. Four subgroups are also included for maximum flexibility. Two sets of balanced main outputs as well as control room outputs are located on the back panel.
22X18 FireWire Recording
StudioLive includes PreSonus' FireWire technology with JetPLL synchronization delivering 22 channels of recording and 18 channels of simultaneous playback. Each FireWire recording channel can be set to record either pre or post Fat-Channel signal processing giving total flexibility and power. StudioLive can also return 18 FireWire playback channels from your recording and production software for remixing and live performance with pre-recorded tracks, as well as studio mixing using the mixer's internal signal processing and summing algorithms.
Digital Conversion
Analog input and output is converted to digital audio with quality digital converters delivering a dynamic range of +118dB.
Digital Mixing
StudioLive features a "QuickTouch" design allowing fast access to every parameter, mix, effect, and aux, allowing quick and creative control during music production. Load and save functions are also included to create snapshots of channel settings, save effect settings, totally recalling a mix, and more. All digital mixing and effects processing is done with 32-bit floating point precision.
Fat Channel
The heart of StudioLive is the "Fat Channel" engaged by pressing any "select" button, and features equalization and dynamics available to every input channel, every aux output, every subgroup output, and main output. High pass filter, and four-band semi-parametric equalization algorithms are based on PreSonus' custom-designed digital EyeQ equalizer. Also included in the Fat Channel are compressors, limiters and gates modeled after PreSonus' ACP88 for dynamics control.
DSP Effects
Two programmable 24-bit stereo DSP effects engines are loaded in StudioLive with a range of reverbs, delays, and time-based effects with parameter adjustment, tap tempo, store, recall, and scene selection for ultimate creative flexibility.
Metering
Fast-acting LED metering is displayed all over StudioLive for quick and easy viewing of settings, parameters, inputs levels, gain reduction, and more. Fat Channel metering displays EQ frequency, cut/boost, as well as compressor and limiter gain reduction. Main meters can be switched between a number of viewing modes including input, output, gain reduction, main mix and pan.
Talkback Communication
StudioLive has a comprehensive Talkback system that enables direct communication with each stereo aux mix separately. This allows communication between the mixer and the musicians using in-ear monitors without disturbing other performers during a performance or recording session.
Multi-Track Recording Software – Capture
StudioLive also ships with Capture multi-track recording software for Macintosh and Windows based computers. Capture software was specifically designed to interface with StudioLive perfectly and allow instant setup and recording of performances. Capture also gives the user full editing capability and export to wav file formats for complete compatibility with ProTools, Cubase, Logic, Sonar and others. With the look and feel of industry standard digital multi-track hard disk recorders, Capture is instantly familiar to every musician and engineer.
No pricing or availablity has been officially announced. More information on the PreSonus StudioLive 16.4.2 Digital Performance and Recording Mixer.