Pohoda Festival 2008 – July 18 -19, 2008 – Confirmed Lineup Announced
The lineup for the Pohoda Festival 08 at the Trencin Airfield in Trencin, Slovakia has been announced.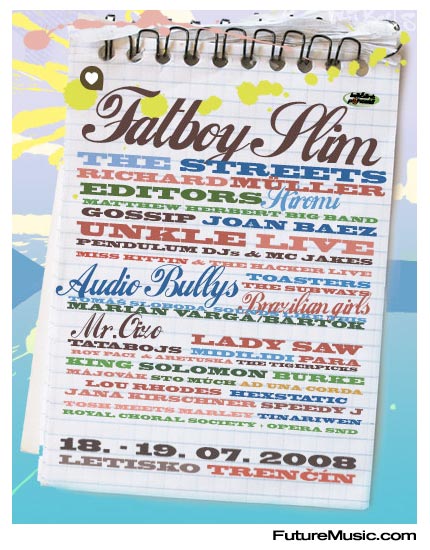 Set against the backdrop of the Váh River Valley, surrounded by mountains and the historic Trencin Castle, the Pohoda festival transforms Trencin Airfield into a celebration of music and arts. Now into its 12th year Pohoda invites an international crowd to party with a host of world-wide talent performing on 7 different stages. The confirmed line up includes Gossip, Fatboy Slim, The Streets, Editors, The Cribs, Blood Red Shoes, Richard Müller, Audio Bullys, Unkle (Live), Miss Kittin and the Hacker Live, Matthew Herbert Big Band (all 25 members!), Royal Choral Society, Slovak National Theatre, and Joan Baez.
Taking place over 2 days the multicultural affair celebrates many genres of music from indie, opera, rock, world music, folk, classical, electronica and hip hop as well as showcasing interactive workshops in performance art, theatre, literature, film and visual art. Other delights include bungee jumping, an art wall where artists paint a section at each year's festival and a captivating family-friendly children's area for the little ones.
Pohoda has grown from selling 140 tickets in its first year to over 27,000 people attending the event in 2007 with 18,000 camping.
Festival Information:
» Friday – Acts on from 1pm – 2am, then dance stage and electronic acts till 8am
» Saturday – Acts on from 12pm – 2am, then dance stage and electronic acts till 8am
» Theatre activities and workshops from 10am each day
» 5 – 5:30am – Welcome to the sun, music as the sun rises over the mountains
» Tickets: €28 for 2 days
More information on the Pohoda Festival 2008.