Voxengo Releases Free Sound Delay Plug-In For Mac & PC
Voxengo has released a free Sound Delay plug-in for Mac and PC. The new AudioUnit and VST audio plug-in is multi-channel delay for professional audio applications.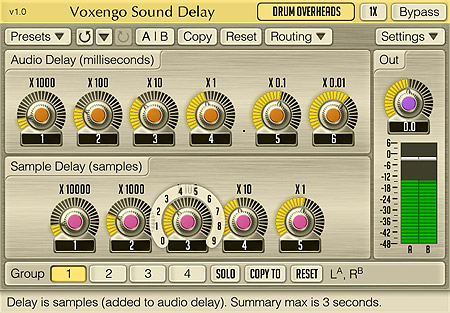 Sound Delay allows the user to specify a delay time in both milliseconds and samples, with a high level of precision. Sound Delay also features internal mid/side encoding and decoding, and allows you to delay mid and side channels independently.
Features:
» Sample-accurate delaying
» Millisecond-accurate delay times
» Up to 3 seconds overall delay
» Multi-channel processing
I» Internal channel routing
» Channel grouping
» Mid/side processing
» Preset manager
» Undo/redo history
» A/B comparisons
» Contextual hint messages
Voxengo's free Sound Delay plug-in replaces both Audio Delay and Sample Delay, and is free for commercial and non-commercial use. More information on the Voxengo Sound Delay.