Alesis Introduces MultiMix 8 Line – 8 Channel Rack Mixer
Alesis has introduced the MultiMix 8 Line, an eight-channel, rack-mounted, line-level mixer for installed sound applications. The mixer is also a useful sub-mixing tool for any band, especially for keyboard players and multi-instrumentalists.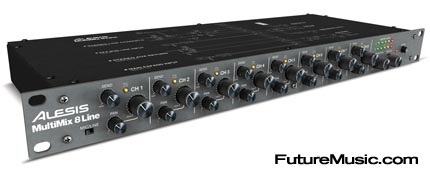 MultiMix 8 Line features eight stereo channels with a mic/line input on channel one and stereo effects send and return. When a mono signal is present on any input or stereo send, the Left signal is automatically summed to mono for mono and stereo compatibility. Two MultiMix 8 Line mixers can be connected with TRS cables, and the connected mixers share the same mix bus for 16 stereo input channels. An effects bus is provided so that connected reverbs, compressors or other effects chains can be shared between two linked mixers.
Simple, intuitive signal clip and overload LEDs for each input and a five-stage LED level indicator at the main output are provided for intuitive visual monitoring.
Features:
» Eight-channel stereo line mixer
» Microphone/line input on channel one
» Stereo effects bus can be shared between two linked units
» Channel expansion feature for expansion to 16 stereo input channels
» Individual Pan and Effects Send controls on each channel
» Signal clip and overload LEDs on each input channel
» Stereo five-stage LED ladder for output level indication
» Stereo monitor out
» Mono input source compatibility for stereo output
» 1RU 19-inch standard equipment rack size
The Alesis MultiMix 8 Line will be available this Fall; no pricing has been announced. More information on the Alesis MultiMix 8 Line.