Numark Announces iDEC – Rack-Mount iPod Dock
Numark has announced the iDEC, an iPod playback and recording rack-mount device. iDEC allows DJs and musicians to integrate iPod audio and video into any 19-inch equipment rack.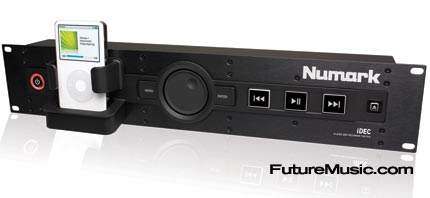 iDEC's Universal Dock for iPod permits playback of audio and video from any docking iPod through integrated outputs. It can also record incoming audio in real time at CD-quality 44.1 kHz sampling rate, directly to the docked iPod.
Features:
» Large, easy-to-use transport controls and selection wheel
» Universal dock for iPod syncs directly with iTunes
» Recording inputs with clip indication make recording to iPod a breeze
» Record directly to iPod (5th gen & Classic) and iPod nano (2nd or 3rd gen)
» RCA line inputs (stereo pair)
» RCA line outputs (stereo pair)
» S-Video output
» Composite video output
» 2RU 19-inch rack-mountable design
» Solid steel industrial construction
The Numark iDEC will be available from audio retailers sometime during Fall 2008. No pricing has been announced. More information on the Numark iDEC.