Korg Unveils nanoSeries USB MIDI Controllers
Korg has unveiled their new nanoSeries of USB MIDI controllers, which will initially include three products, the nanoKEY, nanoPAD and nanoKONTROL. The concept was to design specifically for portability, and Ableton Live action. All the nanoSeries controllers are USB bus-powered.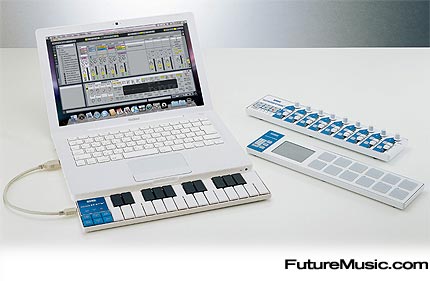 Controllerists, such as Moldover, will be salivating over the possibilities of incorporating these bits of kit into their Frankenstein modules. The rest of us will be happy that these compact units will be available soon, and will most-likely be quite affordable.

The nanoKEY is a 25-note, velocity-sensitive keyboard that looks more like a toy than a true controller with overly-wide buttons. The keys can transmit MIDI notes orControl Change (CC) action. Six buttons provide Octave Up/Down, Pitch Up/Down, modulation and Mode. It will be packaged with a full version of Korg's M1Le, a low-calorie version of the Legacy Collection Digital Edition bundle.
The nanoPAD contains a touch pad, 12 trigger pads based on the padKONTROL, roll and flam buttons, a chord trigger, and CC mode. It will come packaged with Toontrack's EZDrummer Lite.
The nanoKONTROL contains nine faders, nine knobs, 18 buttons and a transport section. The buttons feature attack and decay times allowing them to be customized for creative applications. Additional features will be available via the free KONTROL Editor software. nanoKONTROL will come bundled with Ableton Live Lite.
Kudos to Korg for developing these much needed products, here's hoping that these controllers taste as good as they look.
Korg's nanoSeries will hit stores by Christmas for about $100. More information on the Korg nanoSeries.