Edax Now Shipping VTP-100 Vacuum Tube Pre-Amp
Edax, a Mexican concern, is now shipping their new VTP-100 class-A vacuum-tube pre-amplifier.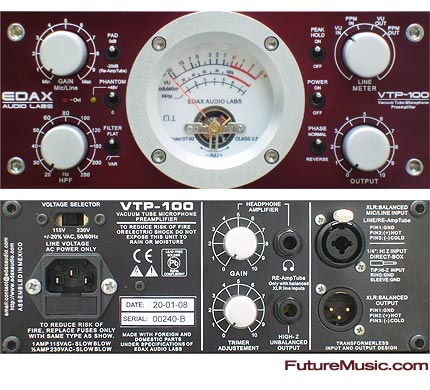 The The VTP-100 is housed in a 2U half rack unit, and features Mic, line and instrument (DI) inputs, switchable 48v phantom power, variable hi pass (lo cut) filter, large level VU meter, LED overload indicators, phase reverse and 20dB pad. The preamp delivers up to 60dB of gain, sufficient for most microphones including the most sensitive ribbons. A high quality headphone amplifier is included at the rear of the unit.
Features:
» GAIN Mic/Line: An 11 position rotary switch that controls the gain of the tube stage in 5dB steps.
» PAD: Selects between the MIC input (via the XLR input connectors on the rear panel) and Line or DI input signals (via the rear Combo Neutrik 1/4″ input jacks).
» Ovl: The Red Led iluminate when the input level exceeds the maximum XLR input level which is 3 dB below the overload point.
» +48V: Supplies 48 volts to the XLR inputs for condenser microphones requiring phantom power. Avoid selecting phantom power if you are using a dynamic, ribbon or tube mics.The Yellow Led iluminates when the Pantom is on.
» HPF: An 11 position rotary switch that provides 12dB/octave low frequency rolloff with 11 user-selectable turnover frequencies 20 to 250Hz.
» PPM HOLD: When the switch meter are in PPM mode allows to freeze the meter at maximum peaks.
» LINE METER: Allows select VU/PPM input and VU/PPM output modes.
» POWER SW: The meter light indicates that the unit is on.
» PHASE SW: Phase reverse switch, where '+' is normal phase
» OUTPUT: The output is a passive attenuator that controls the output level.
» PHONES: This is a separate output stage for driving a set of stereo headphones in mono output. The output level is determined by the Gain headphone amplifier and is post-output level control.
» RE-AMP TUBE: This is a separate Hi-Z unbalanced output stage for driving musical amplifiers. The output level is determined by the trimer adjustement control and is post-output level control.
» COMBO input connector: Microphone and Line connection is made to standard XLR receptacles on the rear panel.
» COMBO input TRS connector: Unbalanced transformerless FET DI Hi-Z 1M input and is post-Gain Mic/Line Selector.
» XLR connector: Balanced transformerless output
Edax claims their preamplifier delivers a wide (+32dBu) dynamic range with a flat frequency response and low noise. Discrete input and transformerless output stages provide superior sound performance compared with most other commercially available transformer balanced mic preamps. All the commutation functions are carried out through internal relays, any type of FET, VCA or CMOS are employed, this allows it to maintain, at any given moment, a wide dynamic range, low distortion, little phase deviation and improves linearity across the full frequency range.
The VTP-100 was designed to appeal to home studio / project studio owners who want to add some classic tube warmth to their recordings without breaking the bank.
The Edax VTP-100 costs $950 and is available now. More information on the Edax VTP-100.