Avid's $24,000 Turntable
Incredibly, Avid is still selling their Acutus turntable, which they claim "is radically different from current design theories." The exorbitant deck is almost ten years old and even comes in a gold plated version, why? Please don't ask…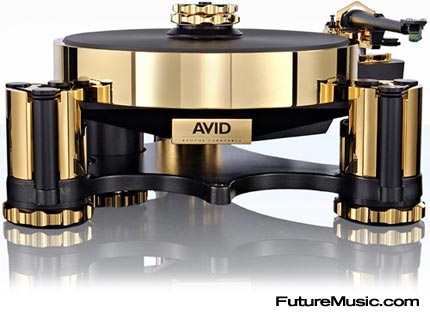 Avid yammers on about their design philosophy, which you can read by visiting their site (see below), but the only thing that's really of interest here is that the price tag is 24 large. "The purpose of the turntable is to support a pick-up arm and cartridge, [and] spin a record at a constant speed" – well, we're glad they got that part right. It's too early in the morning to go into their details, but suffice to say, they go into great depth to substantiate the price.
Specifications
» Drive: Belt drive
» Speeds: 33.3 and 45.0 RPM
» Platter mass: 10.0 Kg
» Bearing: Inverted stainless steel
» Thrust point: Tunsten carbide/Sapphire
» Suspension: 3 point, springs in vertical, o-rings in lateral frequency | vertical 2.5 Hz (variable), lateral 4.5 Hz
» Tonearms: Std. cut for SME (adapters to order)
» Motor: Hand built 24v 140mNm ac synchronous
» Power supply: Separate control unit
» Voltage input: 100-240vac 50/60Hz 20 watts max. (depending on region)
» Dimensions: Turntable (overall) 460 x 400 x 210mm (WxDxH)
» Net weight: 19.0Kg (42lb) turntable + 3.5Kg (8lb) psu
Avid's Acutus costs $24,000 and is available now for Hedge Fund managers who want to impress their friends. More information on the Avid Acutus turntable.