Baudel Updates HighC To Version 2.2
Thomas Baudel's HighC, a graphical music creation tool, has been updated to version 2.2. HighC, pronounced "I See," allows users to draw sounds on a continuous time-frequency diagram that looks like a musical score. Unlike other image-to-sound software, HighC uses a vector-based representation: sounds remain individual objects that can be edited, transformed and composed with each other at will.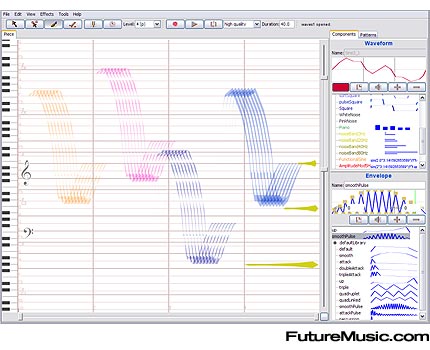 HighC's integrated interface encompasses the role of synthesizer, sequencer and mixer. The simple synthesis model underpinning HighC gives access to the most common sound synthesis techniques in a graphical, intuitive and uniform framework: Additive synthesis, Waveshape, various noise-based models, but also FM synthesis, Ring modulation and granular synthesis.
HighC is available as a Free entry-level "educational" version, however, playback is limited to 22 KHz. The pro version costs €29.99 and permits higher quality playback rates, as well as the ability to export audio compositions in several standard file formats. More information on Thomas Baudel's HighC.