iHome Unveils Integrated iH69 & iH70 iPod Dock/Speaker System
iHome has announced the iH69 and iH70, a new iPod dock/speaker systems for Macs and PCs. Now, iPod users can dock, charge, play and sync their iPods directly to their computer via their speakers with no extra wires, cables or space necessary.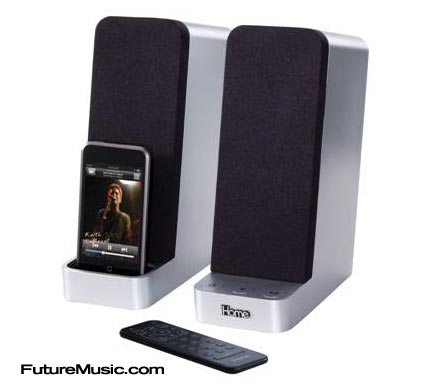 Compatible with all docking iPod models, the iH69 and iH70 conveniently charge, play and sync iPods while they are docked securely into the base of the computer speaker. The iH69 and iH70 are designed with the Reson8 speaker chambers providing the listener with a computer port, sync switch, volume controls and headphone jack for private listening. The iH70 builds upon this base with higher wattage producing speakers, a full functioning remote control and the inclusion of SRS WOW sound enhancement technology.
The iHome iH69 and iH70 will cost $99.99 and $129.99 respectively; no availability has been announced. More information on the iHome iH69 and iH70 iPod dock/speaker system.