Apple Applies For Three New Wireless Patents – iPod Radio Broadcasts?
Three new wireless patent applications by Apple have been excavated. The first, filing, dubbed "Location discovery using Bluetooth," describes a a Bluetooth homing technology. It would enable a Bluetooth device to locate another Bluetooth device.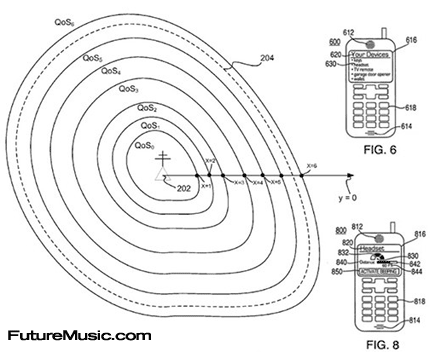 The second application, entitled "Wireless communication out of range indication," describes a system that would inform a user that they are about to exceed the range of a wireless network. The filing covers a range of wireless standards, including FM, RF, Bluetooth, 802.11, IR, and others.
The third, entitled "Media Player System" describes a method for wirelessly connecting a main media server. The filing states, 'the transmitter is configured to at least transmit a continuous music feed to one or more personal tuning devices that each include a receiver capable of receiving information from the transmitter over the wireless connection."
The filing goes on at length to outline several possible connections and transfer options including FM, RF, Bluetooth, 802.11, UWB (ultra wide band), IR (infrared), magnetic link (induction) and/or the like." One example could be personal radio broadcasts utilizing the various wireless technologies available, or dissemination of playlists to other iPod/iPhone users.