Akai Readies XR20 Beat Production Station
Akai Professional has unveiled the XR20 Beat Production Station, a portable rhythm solution geared towards making Hip-Hop and R&B beats wherever and whenever inspiration strikes.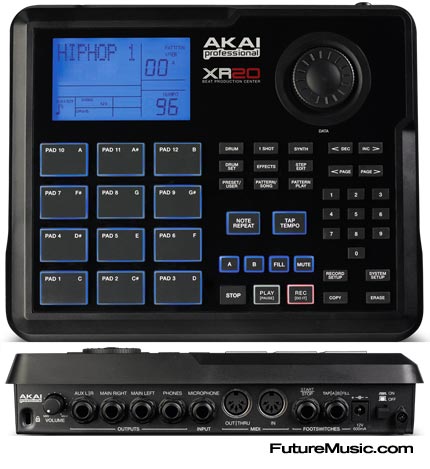 More than 700 pre-loaded sounds cover a range of drums, percussion, effects and instrument samples, while an integrated effects engine includes Reverb, EQ and Compression, enabling musicians to make complete backing tracks. A microphone input is included for mixing vocals over patterns. Bright, backlit pads provide visual cues for added beat precision.
The XR20 features sounds of standard and electronic drums, single (one-shot) hits, bass and synth sounds to easily create the maximum mix in minimal time.
Features:
» More than 700 sounds produced by Chronic Music
» Ninety-nine Preset Patterns and 99 User Patterns
» Backlit LCD
» Bright, glowing, backlit pads that follow the beat
» Microphone input and Headphone output
» Pattern Play Mode — different patterns can be triggered from individual pads
» Drum Roll/Note Repeat feature
» Battery Power capability and/or AC Adapter
Akai's XR20 costs $499 and will be available this summer. More information on the Akai XR20.