Hercules RMX MIDI DJ Controller – First Impressions
The Hercules RMX MIDI DJ controller with a built-in sound card hit our offices this week, and we wanted to give you our first impressions before our official review premiers in the near future. Once you get past the über-cheesy outer box that screams As Seen On TV, your presented with the silver RMX packaged in a convenient carrying case. Nice touch!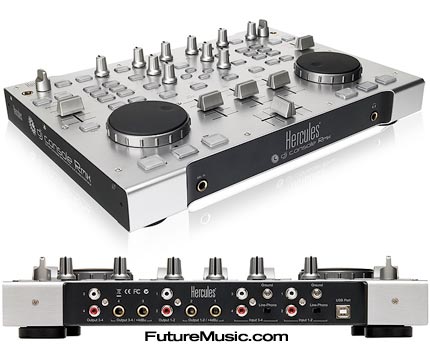 First off, this is not Your Daddy's Hercules controller. The company has stepped up its game in terms of build quality and components to unleash a "Pro" controller aimed at Digital DJs who are looking for a serious controller/sound card without having to mortgage their homes.
All the "Mickey Mouse" components from their previous DJ have been replaced with quality bits and the RMX is housed in a very solid metal chassis. The faders and knobs are tight and don't have the cheap, flimsy feel you find in budget controllers. The buttons, however, have a "not quite right" tactile sensation when pressed, and may not appeal to some users. In addition, the blue backlit LED buttons are supposed to stay on when activated, but only flash for a few seconds when first connected to a computer.
The Jog wheels are not effective for scratching and will end up only used sparingly for needle dropping and cuing. However, there's plenty of buttons for looping, cue points, sync, and customizing the interface to your specific needs. The layout is also quite nice with good ergonomics and plenty of room between controls, even if you have meaty paws.
The other noteworthy observation is that there is no Master output summing all channels. You have RCA or +4dB quarter-inch I/O, but no master out. This isn't a problem with Virtual DJ, which comes bundled with the RMX, but could be an issue with other mixing software.
The Hercules RMX is available now for $349. More information on the Hercules RMX.