Universal Audio Releases Limited Edition "Hot-Rodded" 1176AE
Universal Audio has released the 1176AE, an anniversary edition of the legendary limiter. Celebrating a decade of Universal Audio's refounding and just over 40 years since the birth of the 1176, the 1176AE Anniversary Edition is a custom, limited-run, hod-rodded version of the famed studio limiter — only 500 1176AE units will be made available worldwide.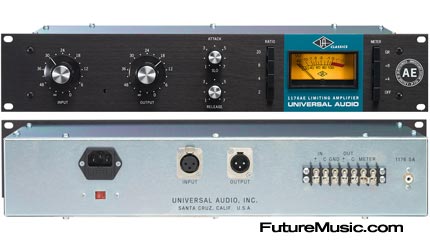 The "AE" descriptor not only stands for Anniversary Edition, but counterpart with its blackface/bluestripe cosmetic treatment, signifies the very unit revisions this unique instrument draws from. The 1176AE borrows the sonically unique program-dependent characteristics from the original, Revision A "Bluestripe", while retaining the class-A low-noise ("LN") circuit and custom transformers of the most popular 1176: Revision E.
Features:
» Unique rev.A/E "hot-rod-mod" features, cosmetics and sonic signature
» Program dependency of legendary "Bluestripe" Rev.A 1176
» Vintage UA 176 compression ratio array – 2:1, 4:1, 8:1 with 20:1 for limiting
» Expanded range of "multi-button" compression and classic "all-button" mode
» "Slo" 15ms Attack setting adds increased versatility for new uses
» Limited-Edition of only 500 units worldwide
Giving the product another sonic distinction, the ratio selections hearken back to the 1176's predecessor the UA 176 Limiting Amplifier. The 1176AE offers a gentler ratio array of 2:1, 4:1, and 8:1 perfect for compression duties — but also preserves 20:1 at the top, for full limiting applications. This ratio modification also allows for a unique range of multi-button ratio combinations, pushing the unit beyond the famous "all-button" mode of the standard unit.
Lastly, the 1176AE offers something new for bass-heavy tracks or "over-the-top" effects, with a unique "super-slow" attack setting of 10ms cleverly repurposed from the redundant Off/Bypass position from the 1176's Attack control. This gives the user an option not achievable with the original unit, allowing transients to pass more freely—again furthering the versatility of the 1176AE beyond its predecessors.
More information on the Universal Audio 1176AE.