Universal Audio Releases 710 Twin-Finity – Dual Tube & Solid State Preamp
Universal Audio has announced the 710 Twin-Finity, a new UA pre-amp design which combines both the warmth of UA tube design and solid-state in a 2U, half-rack, all-metal chassis.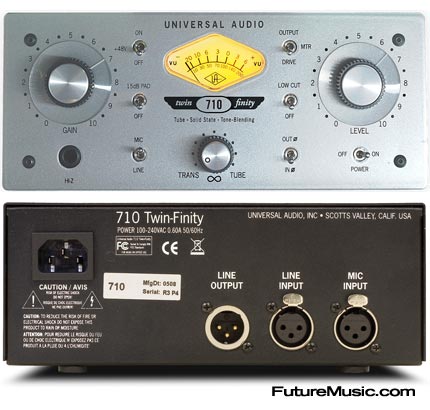 The key to its sonic flexibility lies in its innovative circuit design, featuring a solid-state transimpedance input amp simultaneously driving separate, phase-aligned tube and solid-state gain stages, which are then summed to a single output. The mix between the 310 volt single-ended class-A triode tube stage and solid-state transimpedance stageis controlled via the "Blend Knob."
Blending is continually variable between 100% tube and 100% solid-state offering a practically infinite range of unique pre-amp tones and the ability to easily dial-in your own signature sound.
Features:
» Twin-Finity Tone-Blending Mic/Line Preamp & Hi-Z Instrument DI
» Dual-Path 310 volt Class-A Tube and Transimpedance Solid State Preamp
» Phase-Aligned "Tone-Blending" of Tube and Solid State
» Dual Gain Stages: Wire with Gain to Creamy to Crunchy
» Discrete JFET DI with 2.2M ohm Ultra Hi-Z impedance
» Monolithic Balanced Output Stage
» 70dB+ of gain, +48V Phantom, Pad(-15dB), Phase Invert, and Low Cut Filter(75Hz)
» Output and "Drive" backlit VU metering
» Portable, Rack-Mountable design for Studio, Desktop or Stage
» 19" Rack Kit Included, Optional Desktop Handle Kit also available
» Front Panel Hi-Z Input (switched from Mic/Line automatically via Jack Detect)
» Rear Panel XLR Mic Input, XLR Line Input and XLR Line Output
Like all our other preamp designs, the 710 features dual gain-stage controls (Gain/Level) which can radically vary the amount of coloration and distortion by allowing you to crank up the input gain like a guitar amp. The VU meter features a unique "Drive" mode allowing you to see how hard you are driving the input stage.
More information on the Universal Audio 710.