Cable Guys Release FilterShaper – VST Effect Plug-In For Windows
CableGuys have released FilterShaper, a VST effect plug-in for Windows that claims to bring life to your sounds and loops. You can draw any curve, assign it to its 4 LFOs and use them to modulate filter cutoff and filter resonance of its great sounding filters. Or just modulate the volume.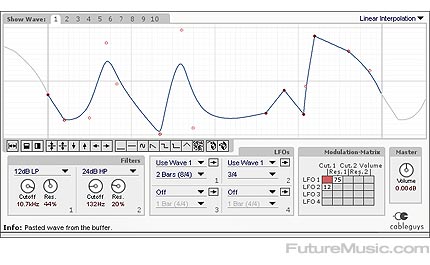 Its drawing possibilities are ultra-flexible, yet easy to use. You can draw any curves you like shaping hard-synced or analogue-sounding rhythms. Create interesting rhythmic strings, shape a bass sound, destroy vocal recordings, create vivid shaker rhythms out of white noise, etc. You can go from subtle changes to extreme modulations, from little sound corrections to nicely filtered rhythmic loops. Its various filters can be set to drastic values from zero resonance up to self-oscillation.
You can change all parameters via automation. Everything. Even the shape of the modulating wave can be automated. Choose which wave is in use at any position in your song, edit the cutoff frequency, change the loop length, record and play back any wave point movements and assign any hardware controller to any parameter in FilterShaper. Even with heavy modulations, with tempo changes in the host or jumping at different positions of a song, the modulation always stays in sync.
The Cable Guys' FilterShaper is available now for $44 / €29. A demo version is available, and gives the user full functionality with the only limitation being that only one instance of the plug-in can be used at the same time. More information on Cable Guys FilterShaper.