Tascam Upgrades GigaStudio To Version 4
Tascam has released GigaStudio 4, a major upgrade of the sampling workstation. GS4 now supports 64-bit operating systems like Windows XP 64 and Windows Vista 64, allowing users to access up to 128 gigabytes of RAM for loading large sample libraries and compositional templates.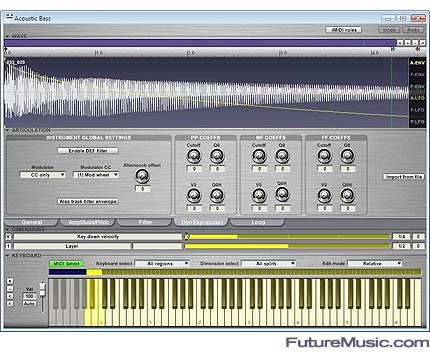 GigaStudio 4 also hosts VSTi and GVI virtual instruments, loading or stacking instruments alongside GigaStudio instrument libraries. When hosted in GigaStudio 4, virtual instruments based on TASCAM's GVI gain the advantages of kernel-level processing, offering lower latency than other host applications.
GigaStudio 4 builds on the features of GigaStudio 3, including unlimited polyphony, 96kHz/24-bit sample support, 128 MIDI channel playback and embedded GigaPulse convolution reverb. The iMIDI rule programming includes legato mode, round-robin, alternation, portamento, dynamic expression filters and more to add realism to sampled performances. Hundreds of enhancements also have been made from GigaStudio 3 such as an all-new QuickSound database tool, additions to the QuickEdit interface and many user interface improvements.
GigaStudio 4 includes sound Libraries from SONiVOX, Larry Seyer Digital, Project SAM and Wavelore.
Tascam's GigaStudio 4 is now available for Windows XP and Windows Vista (32 and 64-bit versions) fore $599. GigaStudio 3 Orchestra users can upgrade for $199. Upgrades from any other version of GigaStudio or GVI are $299. More information on Tascam GigaStudio 4.