Voxengo Upgrades Crunchessor To Version 2.0
Voxengo has upgraded Crunchessor, their compressor plug-in for Mac and PC, to version 2.0.
Crunchessor is known for its valve-type processing, which is applied in parallel to compression. This makes Crunchessor an ideal choice for musicians and producers who are fond of the warmth delivered via analog compression.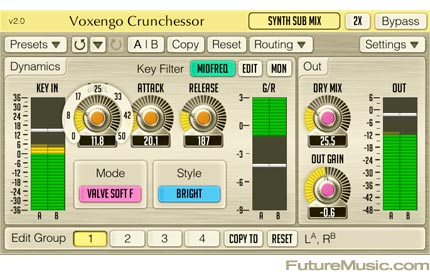 Crunchessor offers the user a selection of compression coloration styles based on analog modeling for distinctive sonic signatures. The user can also disable both coloration and valve warming processing to get a neutral and clean compression sound.
Enhancements:
» Multi-channel support
» Multi-platform support
» Wet/dry mix
» Custom key filter adjustments
» Undo/redo
» Routing matrix
» Mid/side processing
» Preset manager
» User interface coloration
» User interface re-scaling
» Channel grouping
» Plug-in instance naming
» Selectable oversampling level
» Bypass switch
» In Gain control removed (it is superfluous)
» Better metering
Being a general-purpose compressor, Crunchessor can be used for any kind of program material: drums, vocals, bass, guitars, synth sounds, etc. Crunchessor can be suitable both for single track and whole mix processing. Crunchessor also accepts external side-chain source signals and allows you to filter key signal sources before they are used for compression. Full multi-channel operation is supported.
Features:
» Easy compression tuning
» Valve warmness
» Coloration styles
» External side-chaining
» Key signal filtering
» Multi-channel processing
» Internal channel routing
» Channel grouping
» Mid/side processing
» 64-bit floating point processing
» Preset manager
» Undo/redo history
» A/B comparisons
» Contextual hint messages
Voxengo's Crunchessor 2.0 costs $49.95 and is available now. More information on Voxengo Crunchessor 2.0.