Samsung Releases F400 B&O Music Cell Phone
Samsung has premiered the F400, a dual slider music cell phone that we first reported on in February. Equipped with ICEpower technology by Bang & Olufsen, the F400 is designed for music lover's who desire a quality music phone. Smart Bass provides rich, deep and powerful sound, and Smart Limiter ensures an audio signal to not exceed the amplitude of the threshold.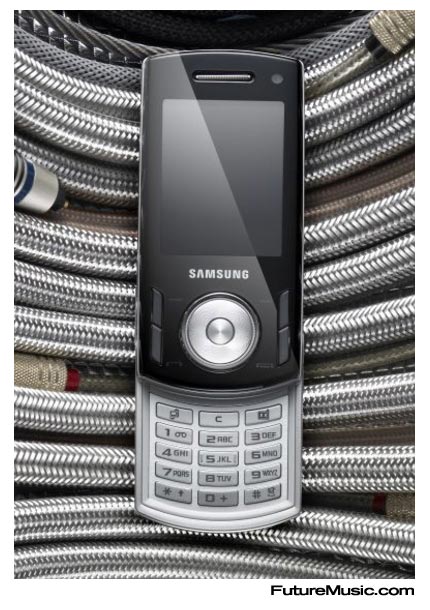 Many other sound enhancing technologies are also embedded within F400, such as Digital Natural Sound engine (DNSe) 2.0 which brings an ideal and customized sonic experience for every genre of music.
When slide up, F400 is ready to make calls with a metallic keypad that is softly brushed with hairline pattern. When slide down, F400 turns into a music player, revealing hidden dual stereo speakers. A silver wheel navigator on top provides users with deejaying experience as they turn the disk to tune their music. (We have no idea if this is really for mixing, or if Samsung just wanted to include the word DJing into their marketing materials. –Ed.)
Shazam, a value-added music recognizing application incorporated within F400, provides users with a connected music experience. By using the application, users can find out the name and artist of an unknown tune by simply pointing their phone at the music. The service is also available when a user is listening to a song on the radio integrated within the handset.
F400 also boasts other great features including a 3-megapixel camera with AF, FM Radio and Bluetooth v2.0 support. Storage for the F400 includes 1GB of internal SD memory and a microSD slot that supports up to 8GB. USB 2.0 HS is also available for an extra mass storage space. A dedicated 3.5 mm earphone jack is also included.
The Samsung F400 will be available in France in May, in two colors, piano gloss black and white, and then rollout to other European countries. No pricing has been announced. More information on the Samsung F400 B&O music cell phone.