KRK Launches New Rokit G2 Powered Studio Monitors
KRK Systems has launched the second generation of their Rokit monitor powered monitors. The second generation Rokit incorporates several technologies from the company's VXT and E8B lines, including radiused edges along the front of the cabinet. The new Rokits replace the current Rokit 5", 6" and 8" models.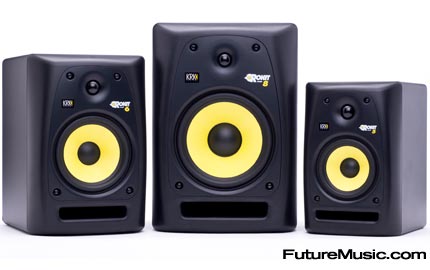 The new Rokit provides a molded front baffle. This design feature reduces diffraction distortion caused by standard flat baffles. The Rokits leverage KRK's research and development into baffle design and fabrication. The Rokit G2's curved front baffle was engineered to minimize diffraction of high-frequencies, resulting in a sweet spot that is significantly larger than products with square or lightly rounded baffles. The baffle also houses a molded front-facing bass port that minimizes low-frequency phase distortion and unwanted frequency emphasis typical of rear-facing bass ports. The end result is a harmonious yet accurate blend of low and high-frequency components that result in a more accurate speaker.  Additionally, the Rokit G2's voicing has been slightly enhanced to provide even better mix clarity and precision.
The KRK Rokit G2's cost $149, $199 and $249 for the 5, 6 and 8 inch versions, respectively. More information on the KRK Rokit G2.