Solid State Logic Announces Mynx
Solid State Logic has announced Mynx, an entry-level SuperAnalogue processor. Mynx is housed in a sturdy chassis that allows you to load your choice from the X-Rack module range into a simple two module desktop box.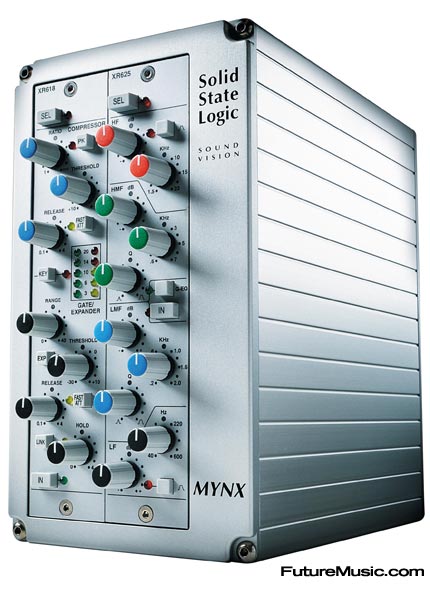 Using identical circuit design and manufacturing to SSL's Duality and AWS 900+ consoles, X-Rack is a modular system that delivers the SSL SuperAnalogue sound in a uniquely versatile form. There are eight different modules in the range designed to complement your DAW and improve the results you get from the recording process.
The X-Rack system enables you to combine different modules to create a range of recording and mixing tools; Combine the SuperAnalogue Mic Pre & Dynamics modules for a front end recording system for vocals. Slot in the EQ & Dynamics modules for versatile and characteristic SSL channel strip processing. Add the 'VHD Input' module to inject analogue warmth or grit. Fit the Stereo Bus Compressor module for legendary audio glue full mix compression. Or fit a Master Bus & Line Input modules to create an analogue monitor and foldback system for your studio.
Mynx is a rugged metal enclosure made from 4mm thick extruded aluminum. It measures a mere 105mm x 190mm x 185mm and has two X-Rack Module capacity. Power supply to the modules is via an external supply and audio connections are made directly to the back of your selected modules. However, Mynx has no Total Recall capability.
The SSL Mynx will begin shipping in early June for $595. More information on the SSL Mynx.