Opulent Audio Releases bLO-FIsh – Lo-Fi Synth For Windows
If MicroMusic is your thing, then you may be interested in bLO-FIsh, a lo-fi synth from Opulent Audio. bLO-FIsh, a VST instrument plug-in for Windows, models an 8 bit sound chip and utilizes traditional analog synth controls for modulation. The three-oscillator bLO-FIsh's gritty sonic signature is well-suited for producers who want an 8-bit sound on the darker side.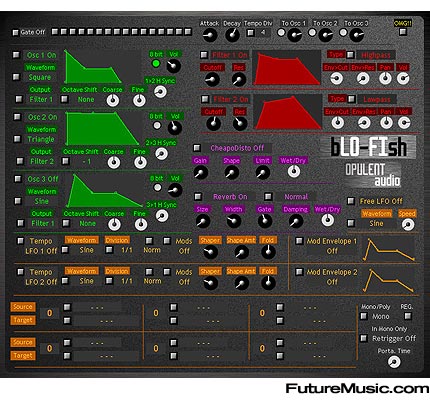 Breakdown:
Generators:
» 3 Wave Oscillators with Sine, Saw, Ramp, Triangle, Square and two different widths of Pulse waves
» Audio rate is switchable between standard 16 bit/44 kHz and 8 bit/22 kHz LO-FI mode
» Graphic amplitude ADSRs and volume controls
» Output routing to one filter, both filters, or no filter
» Hard sync feedback loop
Filters:
» 2 Parallel SV Filters with Lowpass, Highpass, Bandpass and Band Reject modes
» Graphic ADSRs routable to cutoff, resonance, or both. Knobs to control amount of envelope applied
» Pan and volume controls
Effects section:
» Basic distortion
» Reverb with normal, gated and freeze modes
Modulation devices:
» 2 Tempo-synced LFOs with wave mod options (shaping, folding)
» 1 Free-tempo LFO, 2 Graphic ADSRs (modulation also from velocity, aftertouch and mod wheel)
» 16 step tempo sync gate that mixes independently with all 3 oscillators
» 6 slot modulation matrix with 8 sources and 63 targets
Additional Features:
» Designed to be quick and easy to use
» Incredibly ugly, too big, color-by-numbers interface
» Most parameters are controllable via MIDI
» Monophonic or 8 voice polyphonic operation with retrigger and portamento/glide
» Small to medium CPU hit, depending on system and patch used
» PDF manual
If you're a graphic designer, and like what Opulent has to offer, then you might want to offer your services to the concern, since bLO-FIsh is graphically-challenged.
Opulent Audio's bLO-FIsh will set you back only $8 bucks and is available now. The price includes all future updates, as well as preset banks. A 14-day fully-functioning free trial is available for download. More information on Opulent Audio bLO-FIsh.