Native Instruments Expands Guitar Rig Product Line – Launches Guitar Rig Session & Guitar Rig 3 XE
Native Instruments has expanded their Guitar Rig product line by announcing two new products, Guitar Rig Session and Guitar Rig XE. Session and XE sit below the flagship Guitar Rig 3 (GR3) software/hardware effects and amp/cabinet modeling solution, allowing NI to open the Guitar Rig platform to mid-level and entry-level users respectively.
The announcements are a savvy move from the German concern, which is now seeing increased competition in this market niche from IK Multimedia's Stomp I/O and Wave's GTR. NI has a significant market lead thanks to an early debut, and Guitar Rig is only getting better and better (Disclosure: FutureMusic is currently reviewing GR3. –Ed.). With the ability for a guitarist to enter the Guitar Rig world for a about 100 bucks, NI is positioning themselves to "own" the vertical.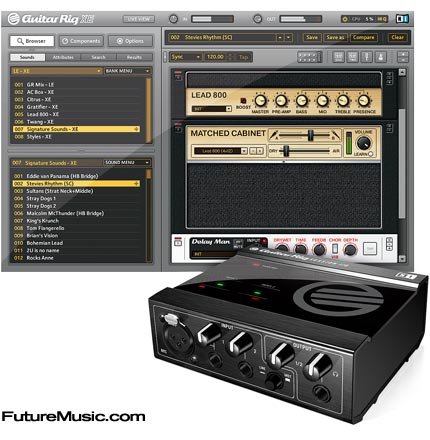 Native Instruments' Guitar Rig Session is a recording solution for guitarists, bass players and songwriters that offers streamlined Guitar Rig software, and a specially designed audio interface. At the heart of Guitar Rig Session is the new Guitar Rig 3 XE software (see below), which features a selection of five tube amplifier models and 12 cabinet types, as well as 21 stomp boxes and effect units. A library with over 150 instantly playable tones from different musical eras and genres is included, together with several helpful tools including dual tape-decks, metronome, tuner, and a dedicated Live View. All components can be freely combined in the virtual Guitar Rig rack, allowing musicians to easily create sounds ranging from authentic signature tones to totally unique sonic flavors.
The crucial link between the instrument and the computer is established with the included Session I/O, a new USB 2.0 stereo audio interface. Two quality instrument preamps and 24bit/192kHz Cirrus Logic audio converters enable solid audio quality and low-latency. It appears that the converters were taken from the Audio8 DJ interface, which we've found to be an excellent conduit. With an additional microphone input and headphone output, the Session I/O offers everything necessary to turn a Windows or Macintosh computer into a full guitar or bass setup.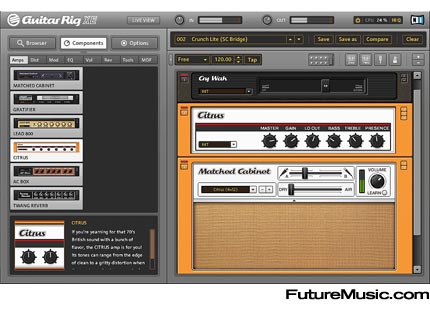 As mentioned above, Native Instruments also announced Guitar Rig 3 XE, a new compact version of its award-winning Guitar Rig software. Based on Native Instruments' Dynamic Tube Response Technology, Guitar Rig 3 XE provides a versatile selection of five tube amplifier models, 12 classic cabinet types and 21 different effect units accessible through GUITAR RIG's virtual rack. This allows users to freely mix and match the individual components, and create a wide range of tones and effect treatments for guitar, bass, vocals or any other kind of real-time or recorded audio material.
Other practical features of Guitar Rig 3 XE include dual tape decks, metronome, tuner, a special Live View for stage use, and a convenient preset database that comes with more than 150 ready-to-play guitar tones accommodating all kinds of playing styles and musical genres.
Native Instruments' Guitar Rig Session will be available sometime in June 2008 for $249 / €229. Guitar Rig Session also includes the 64-track music sequencer Cubase 4 LE, as well as the Kore Player software instrument combined with the Pop Drums acoustic drum library. Guitar Rig 3 XE will also be available in June 2008 for $119 / €99. More information on Native Instruments Guitar Rig Session and Guitar Rig 3 XE.