H2O Audio Releases iSH2 Waterproof Headset For iPod Shuffle
H2O Audio has released the iSH2 Waterproof Headset for the second-generation iPod shuffle. The iSH2 is the first integrated waterproof headset and case for the 2nd-gen shuffle, and was developed with the assistance of world record holder and Olympic multi-medalist swimmer, Natalie Coughlin.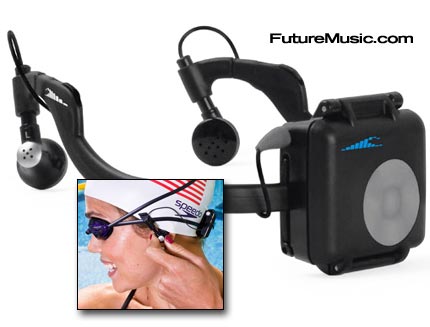 H2O Audio claims the iSH2 can be submerged up to 10 feet underwater, and is designed to be worn independently or with swim goggles. The case provides complete access to the shuffle's circular control pad for manipulation, even while swimming.
Features:
» Full control of iPod Shuffle up to 10′ underwater
» Earbuds optimized for swimming using goggle clips
» Neckband
» Two sets of Earplugs seal out water
"For years runners have benefited by adding music to their workouts and H2O Audio has now made it possible for swimmers to use that same energy and motivation to push their performance to the utmost," Natalie Coughlin, H2O Audio Product Advisor, remarked.
The H2O Audio Natalie Coughlin Signature Series iSH2 costs $80, and is available now at Apple Stores and from H2O Audio's website. More information on the H2O Audio iSH2.