Digidesign Unveils Transfuser – Groove-Based Virtual Instrument
Digidesign has unveiled Transfuser, a new RTAS virtual instrument plug-in for Pro Tools. Transfuser is a real-time loop, phrase, and groove creation virtual instrument designed for quickly and easily creating, manipulating, and performing loop- and rhythm-based music on the fly within Pro Tools. It is being offered as a free, pre-release version that will ultimately time-out after 90 days.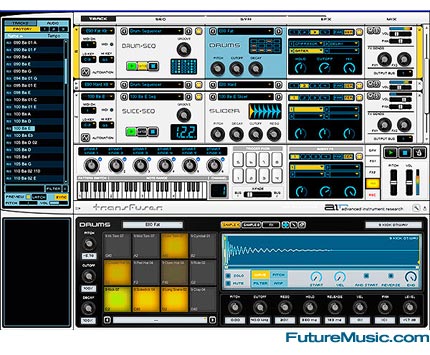 Digi claims that it's ideal for electronic, hip-hop, and dance music production, remixing, and anyone working with loops, Transfuser comes packed with a variety of loops and phrases to get started with creating right away. Users can create grooves using multiple drum and effects modules, slice and tag loops in real-time, convert loops into MIDI patterns/drum kits, and replace sounds in existing loops on the fly. Transfuser supports full drag and drop of Pro Tools regions and audio files directly from a computer browser, and offers powerful live performance-oriented features for both creative arranging and performing of grooves.
With Transfuser, you can drag a loop in, apply intelligent randomization to re-order loop slices, layer another groove on top of it with one of the drum machines, add some of Transfuser's funky effects, apply sequenced automation to any number of parameters to create entirely new beats and grooves.
Through June 25, 2008, Digidesign is offering a free download of the Transfuser Preview to every Pro Tools|HD, Pro Tools LE, and Pro Tools M-Powered user. This free prerelease version of Transfuser is fully functional for three months, and enables all Pro Tools users to discover and experiment with the capabilities of Transfuser. More information on Transfuser.