Scuzzphut Unveils Phatbeatz, VST Drum Machine For Windows
Scuzzphut has unveiled Phatbeatz a new drum machine VST instrument plug-in for Windows. Featuring an intuitive step-sequencer, fast sample and full-kit previewing, and an exclusive library of kits to get you started, Scuzzphut claims this is a drum sample plug-in for those who need to strike before the inspiration fades.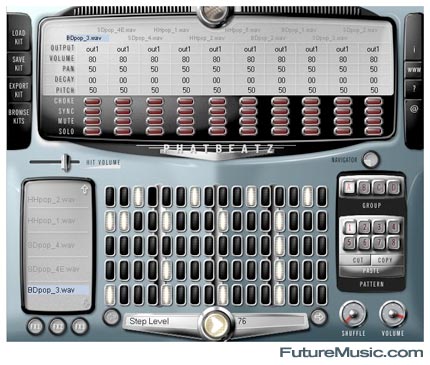 Features:
» 10 sample slots
» Pattern sequencer
» Kit browser
» In-place preview of samples
» In-place preview of kits
» Drag-and-drop samples from Explorer into phatbeatz
» 32 step patterns – auto detects if only 16 steps used
» Automatic loop tuning
» 3 Outputs with FX on each
» Decay and tune controls per sample (with fine control)
» Simple kit creation and management
» Exclusive electronisounds kit library
Phatbeatz costs $69.50 / €44.70 / £35 and is available now as a VST instrument plug-in for Windows. A demo version is available. More information on Scuzzphut Phatbeatz.