de la Mancha Upgrades Dirtbox To Version 3.0
de la Mancha has upgraded Dirtbox to version 3.0. Dirtbox is a compression / distortion / modulation VST plug-in for Windows that the Manchamen claim has the potential to get very loud and very nasty.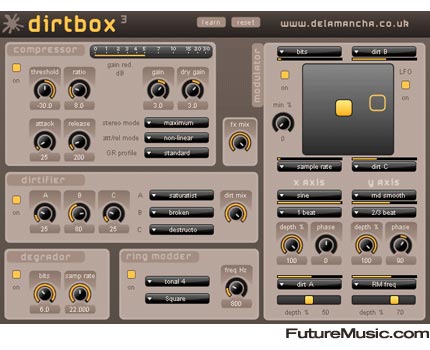 dirtbox is an effect plug-in designed to compress, distort and modulate your audio into a whole new filthy world, from subtle warmth to dynamic destruction. It's arsenal of dirty bombs cover parallel compression, many flavours of dirt and filth, bit crushing, sample rate dropping and ring modulation. Add to that a 4 way XY pad and 2 tempo-sync LFOs and you can modulate up to 6 parameters to really throw that filth around the place.
Enhancements:
» Completely new parallel compressor
» 18 flavours of dirt and 3 dirt slots
» Improved bit crushing and sample rate reduction control
» Extended ring modulation, 12 varieties and 11 waveforms
» 4 way XY pad for modulation of up to 4 parameters
» 2 tempo sync LFOs to automate XY pad and 2 other parameters
» All modulation is shown in real-time visual indicators for each parameter, LFO and XY pad
» Over 50 presets covering subtle to painful
de la Mancha requests that you "please be careful to [check out the presets] at reasonable volumes and with a limiter plug-in after dirtbox, especially if using headphones. Some presets can be relatively quiet and others much louder, and whilst scanning through it is easy to come across one that is going to make you lose control of your own dirtbox." Nice…
de la Mancha's Dirtbox 3.0 is available now for $15 bucks. More information on de la Mancha Dirtbox 3.0.