Rain Recording Release New Element Digital Audio Workstations
Rain Recording released the next generation of their high-end, Windows-based, Element, digital audio workstations. Rain's new Element is driven by Intel's latest Penryn processor technology and is available in Dual- and Quad-Core configurations with up to 6 Terabytes of high-speed storage.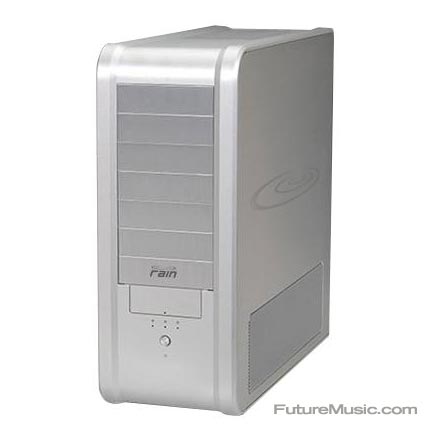 The Element line offers expansion via full size PCI Express slots, FireWire, USB 2.0 and eSATA ports. At its core, the Element features Rain's Quiet Cool technology that fine-tunes each system to prevent audio engine failure, data bottlenecks and heat build-up while enhancing stability and performance. On the outside, the sleek, all-aluminum chassis lets heat dissipate naturally so the internal cooling system can run quieter for virtually silent operation.
Features:
» Dual-Core:
— Intel Core 2 Duo E8200 "Penryn" 6MB L2 2.66GHz 1333MHz FSB
— Intel Core 2 Duo E8400 "Penryn" 6MB L2 3.00GHz 1333MHz FSB
— Intel Core 2 Duo E8500 "Penryn" 6MB L2 3.16GHz 1333MHz FSB
» Quad-Core:
— Intel Core 2 Quad Q9300 "Penryn" 6MB L2 2.50GHz 1333MHz FSB
— Intel Core 2 Quad Q9450 "Penryn" 12MB L2 2.66GHz 1333MHz FSB
— Intel Core 2 Quad Q9550 "Penryn" 12MB L2 2.83GHz 1333MHz FSB
» MainBoard: Intel DP35DPM
» RAM: Up to 8GB DDR-2 RAM (800MHz Dual Channel – Matched Pair)
» Video: ATI Radeon HD 3650 (256MB) (Silent)
» OS Drive: Up 1TB 7200RPM Ultra 300 SATA II (32MB Cache)
» Audio Streaming Drive: Up 1TB 7200RPM Ultra 300 SATA II (32MB Cache)
» Additional Drives: Up to 4TB additional hard drive storage
» Optical Drive: Dual Layer DVD±RW/CD-RW Combo Optical Drive
» USB Ports: 17 USB 2.0 (13 Rear/4 Front)
» FireWire: 5 x IEEE1394 Ports (3 x 2 independent FireWire chipsets)
» eSATA: 1 eSata II external port
» SD Media Front Panel I/O: Compatibility Compact Flash Card I/II, IBM Micro Drive, Smart Media Card, Secure Digital Card, Multi-Media Card, Memory Stick and MS Pro Cards
» Expansion: One PCI Express x16 bus add-in card connector, three PCI Express x1 bus add-in card connectors, three PCI Conventional bus connectors
» LAN: (10/100/1000 Mbits/sec) Intel 82566DC Gigabit Ethernet Controller
» Audio: 8-channel (7.1) audio subsystem using the Sigmatel STAC9271D audio codec
» PSU: Silent 680 Watt silent power supply
» Quiet Cool: Precision Cooling Technology, Computer Noise Prevention System
» Input: Rain Aluminum Keyboard, Microsoft Optical Mouse
» Dimensions: 8 x 17.75 x 21 inches (W x H x D), Weight: 44 lbs.
» Microsoft Windows XP Professional or Vista Ultimate
Rain Recording's Element digital audio workstation is available now starting at $2299. More information on the Rain Recording Element Digital Audio Workstation line.