MOVEMENT 08 Announces Lineup For May 24-26 Electronic Music Festival
Detroit's Movement 08 Electronic Music Festival on May 24-26 at Hart Plaza has announced their confirmed lineup. This year's roster of performers includes Moby, Benny Benassi, Carl Craig, Richie Hawtin, Deadmau5, James Zabiela, Dubfire, Marco Carola, Peanut Butter Wolf and Cobblestone Jazz.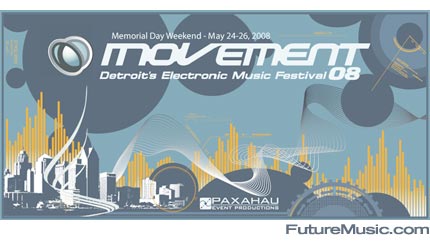 The festival will feature four distinct stages: The vitaminwater Stage, the Beatport Stage, the Real Detroit Stage and the Red Bull Stage.  The Red Bull Stage and the Beatport Stage represent two of the most significant improvements to this year's festival.  Both stages feature new structure designs to provide the audience with an optimal listening and dancing experience.  The stages include new vinyl roofs and metal structures, ensuring a foundation strong enough to hold the sound and lighting systems.  Plus, the stages provide more space, better sightlines and protection against inclement weather conditions.  In addition to these new stages, the festival will feature drastically enhanced sound systems to provide attendees with outstanding sound quality.
Held over Memorial Day Weekend (May 24-26) at Downtown Detroit's Hart Plaza, Movement 08 is expected to attract up to 20,000 attendees per day.  Discounted pre-sale admission tickets to the festival are $40 for a weekend pass (available for a limited time only) or $175 for VIP tickets (with limited capacity available).  The festival's hours are 12 Noon to Midnight.
Music fans from all over the region, the country and the world will visit Detroit to attend Detroit's Electronic Music Festival, bringing much-needed revenue to the City of Detroit and Southeastern Michigan.
MOVEMENT 08 ARTIST LINE-UP:
» ALEX SMOKE –-LIVE
» ALEX UNDER –-LIVE
» ALLAND BYALLO
» ALTON MILLER
» BENNY BENASSI
» BIG JOE HIX
» BRIAN KAGE  & LUKE HESS "REFERENCE"
» CARL CRAIG –-LIVE
» CASSY
» COBBLESTONE JAZZ –-LIVE
» DARKCUBE –-LIVE
» DAVIDE SQUILLACE
» DBX –-LIVE
» DEADMAU5 –-LIVE
» DEEPCHORD PRESENTS ECHOSPACE –-LIVE
» DEREK PLASLAIKO
» DERRICK THOMPSON AKA DRIVETRAIN
» DIESELBOY & MC MESSINIAN
» DREW POMPA
» DUBFIRE
» EGYPTIAN LOVER –-LIVE
» ELECTROBOUNCE.COM PRESENTS DATABASS GHETTO TECH
» ERIC JOHNSTON –-LIVE
» GABE REAL
» GIRL TALK –-LIVE
» GUILLAUME & THE COUTU DUMONTS –-LIVE
» HALF HAWAII –-LIVE
» HEARTTHROB –-LIVE
» JAMES ZABIELA
» JERRY ABSTRACT
» JORIS VOORN –-LIVE
» JOSH DAHLBERG –-LIVE
» JOSH WINK
» JUSTIN KRUSE AKA KRUSE KONTROL
» JUSTIN LONG
» KEITH WORTHY
» KENNETH THOMAS
» KEVIN SAUNDERSON
» KONRAD BLACK
» LAWNCHAIR GENERALS
» LEE BURRIDGE
» MAGDA
» MARCO CAROLA
» MARK FARINA
» MATHIAS KADEN –-LIVE
» MATTHEW HAWTIN
» MICHAEL GEIGER
» MIKE GRANT
» MILES MAEDA
» MINX
» MOBY
» MR. DE' –-LIVE
» NEWCLEUS –-LIVE
» NOSPECTACLE –-LIVE
» OSCAR MULERO
» PAR GRINDVIK –-LIVE
» PAUL RITCH –-LIVE
» PEANUT BUTTER WOLF
» PETE ROCK
» PUNISHER – DJ SET
» REGGIE "HOTMIX" HARRELL
» REX SEPULVEDA –-LIVE
» RICHIE HAWTIN
» RICH KORACH
» SHAWN MICHAELS
» SOUNDMURDERER
» SPEEDY J –-LIVE W/ SCOTT PAGANO VJ
» STACEY PULLEN
» T LINDER
» TECH ITCH
» TERRENCE PARKER
» THE COOL KIDS –-LIVE
» THE NICK SPEED COLLECTION
» TWONZ
» TYCHO –-LIVE
» YOS
» ZIP
More information about Movement 08.