Clear Complex Releases Transistor VST Plug-In For Windows
Clear Complex has released Transistor, a slicer/sampler VST plug-in for Windows. Transistor was designed to create fills and loops from drum parts and apply various effects to modulate the sound. Transistor has 7 effects with 9 controllers each with 4 patterns and 4 sub-patterns. All in sync with the host and in real-time. You have total control over which MIDI-note to assign to trigger a sub-pattern.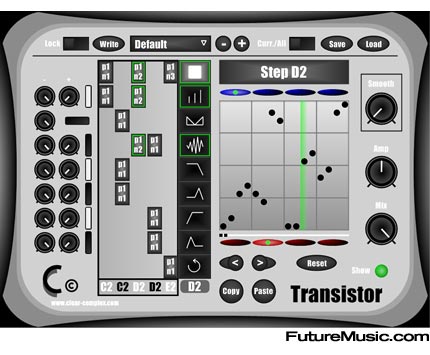 Features:
» 16-step sequencer for modulating effects
» 7 effects with a total of 9 controls
» Each control has 4 patterns with 4 sub-patterns with separate start positions and lengths
» Each sub-pattern is triggered by a MIDI-note you choose
» Automatable global controls for modulating the pattern
» Effects:
— Real-time slicer/sampler
— Level
— Pan
— Distortion
— Lowpass filter (separate control for cutoff and resonance)
— Highpass filter (separate control for cutoff and resonance)
— Reversing
Transistor is designed to be inspirational in the studio and great for live-performers.
Clear Complex's Transistor is available now for $129 / €89 / £65 as a VST effect plug-in for Windows. A demo version is available for download. More information on Clear Complex Transistor.