Allen & Heath Reveals Xone:4D
Allen & Heath have revealed that their groundbreaking Xone:3D has been pimped-out and is now the Xone:4D. The Xone:4D will be available in Europe at the end of May 2008, but there's no official word about other markets.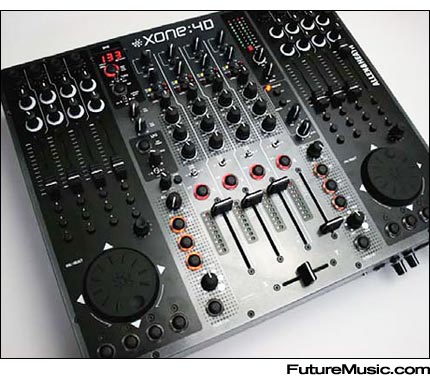 Features:
» New USB2 soundcard
» 24bit / 96kHz capability
» Drivers available for both PC and Mac
» 4 stereo outputs plus digital out
» 4 stereo inputs plus digital in
» 8 extra soundcard configuration switches remove the need for the desktop configuration utility of the 3D
» Ability to switch FX2 RCA sockets to be recording outputs
» Unique real-time LFO waveform edit function
» Dual layer control surface with control snapshot allows 225 mappable MIDI controls across the two layers.
» Updated mixer circuitry
» Improved BPM detection system
» Heavy duty chassis and front panel
A&H claims the new 4D will do everything that the 3D could do, and more. It will enable DJs to greatly extend the capability of their digital setup, e.g. by running 4 simultaneous decks in Native Instruments Traktor, or by being able to achieve genuine multi-track recording of their sets in applications such as Ableton Live or ProTools. The Xone:4D also incorporates the new USB 2.0 soundcard which is now in production in the Xone:2D.
The Allen & Heath Xone:4D will be available at the end of May 2008 in Europe for somewhere south of €2000. More information, not really, on the Allen & Heath Xone:4D.