Stanton Sets Summer Release Date For SC Digital DJ System
With the amazing amount of dynamic, high-end, DJ controllers that debuted at this years NAMM show, it's a great time to be a DigitalJ. Stanton, who showcased their new SC System at the show, has unfortunately pushed back the release date to "sometime this summer."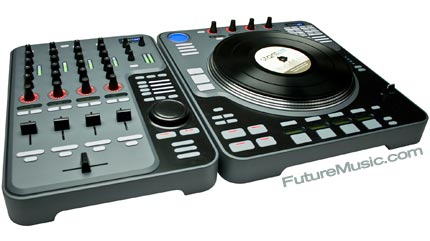 The SC System is comprised of the SCS.1d deck and the SCS.1m mixer, advanced control surfaces that Stanton says "gives the digital DJ an entirely new level of performance ability and functionality, while preserving the comfortable feel and familiar layout of more traditional equipment." The specs on the SC are compelling and the system will go head-to-head against Numark's NS7, which will have a similar price point. Stanton's retail price on the two-piece SC system is $2500, which means they'll probably street at just under $2000 when they bow.
Main Features:
» High-torque adjustable motorized platter with real vinyl
» Motorized pitch fader
» Velocity sensitive pads
» Highly tactile and complete user feedback (out of the box)
» Encoder section for control of rotary controls in software
» LCD scribble strips for two-way communication with selected DJ software and LED backlit buttons
» Universal, class-compliant MIDI and Audio
To be perfectly frank, there's a lot is riding on Stanton's SC System. The public fallout with Native Instruments was just one of many recent bumps in the road for the company who has lost some of its radiance in recent years. Can the SC System restore the concern as a true market leader? Looks like we'll have to wait until Summer NAMM or beyond to find out.
More information on the Stanton SC System.