Sonifex Announces Reference Rack Monitors
Sonifex has launched a series of three rackmount audio monitors, dubbed the Reference Monitor range, which include the RM-2S4, RM-2S10 and RM-4C8. The Reference Monitor Range is a new series of rack-mount audio monitors, combining DSP technology with new audio enclosure design to produce monitors that Sonifex claims is "of the highest standards with exceptional sound quality, a comprehensive feature set and good looks in the rack." When a company touts that it's product "looks in the rack" – you have to wonder…especially when that product is a pair of monitors.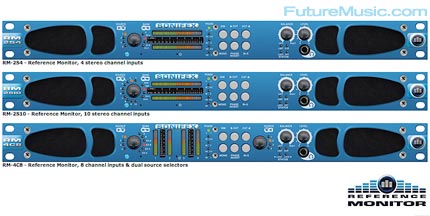 The RM-2S4 features two LED meters and stereo channel audio inputs. The RM-2S10 also has two LED meters, but 10 stereo channel audio inputs. The RM-4C8 has four LED meters, eight channel inputs and dual selectors. Each one is a 1U rackmount unit offering loudspeaker monitoring and high-resolution metering of up to four or 10 stereo audio sources (more with the addition of an optional expansion card).
Sources may be in any mixture of analog and AES/EBU digital formats, with sample rates up to 192 kHz accepted, and a 5-band parametric EQ can be used to tailor the unit for the room in which it is mounted.
The speaker system comprises a three-way arrangement with two mid/high frequency speakers providing stereo imaging and a separately driven, forward facing, dual magnet, mono bass driver. Custom-moulded, profiled, HF enclosures are used to minimise standing waves and eliminate response peaks, and acoustic damping in the HF enclosures is used to reduce colouration, effectively creating a separate, sealed, infinite-baffle enclosure for each driver.
Each of the drivers is magnetically shielded so that the monitors are perfectly safe to use near CRTs and TFT displays and each speaker uses a separate, highly efficient class-D switching amplifier. Even cable lengths to and from the speaker enclosures have been kept short to reduce any potential microphonic induction.
This is a somewhat "unique" product proposition that will ultimately knit a few brows. (Like "Who monitors their mixes in front of rack??" –Ed.) But the video industry may find this to be intriguing…
More information on the Sonifex RM-2S4, RM-2S10 and RM-4C8 Rack Monitors.