Ableton Announces Live 7 LE
Ableton has announced Live 7 LE, a scaled-down version of their excellent Live 7 production software.
Live 7 LE is built on the same fundamental concepts as Ableton Live, offering most of Ableton Live 7's new features.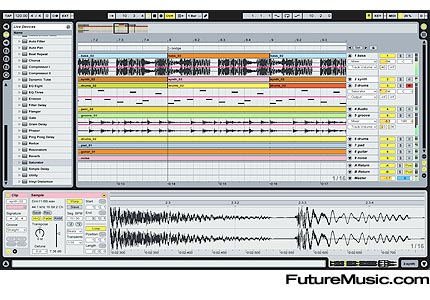 Features:
• Studio-quality recording up to 32-bit/192 kHz*
• Sixty-four audio tracks and unlimited MIDI tracks per project
• Powerful and creative MIDI sequencing for software instruments
• More than twenty built-in audio effects, including a host of creative delays, filters, distortions, studio compressors and EQs*
• Two software instruments—Simpler for creative sample-based synthesis, and Impulse for dynamic, sampled drums*
• VST and AU effects and instruments support; automatic plug-in delay compensation*
• Real-time time-stretching and warping of AIFF, WAV, Ogg Vorbis, FLAC and MP3 files for DJing and instant remixing
• Real-time tweaking of Live's controls with any MIDI controller—just MIDI-map it or choose from a list of popular supported controllers for instant mapping
• Single-screen user interface for simple, creativity-focused operation
• Multicore and multiprocessor support
Note: * Live LE is limited to two simultaneous stereo audio inputs and outputs, twelve built-in audio effects, eight built-in instruments, two AU/VST effects and two AU/VST instruments per project.
Ableton's Live 7 LE will be available as a download from the Ableton webshop for $149 / €129. The boxed version will be available in stores and the Ableton webshop for $199 / €169. More information on Ableton Live 7 LE.