Sugar-Bytes Updates Effectrix
Sugar-Bytes has updated their innovative Effectrix effects sequencer. Effectrix is a new kind of Effect Instrument, which gives you a complete laboratory for sound design. Break your beats, create pulsing athmospheres, psychedelic sound mutations, crush, stretch, loop and reorganize any kind of audiomaterial in realtime and enjoy a never ending depth of inspiration with this innovative and intuitive tool brought to you by Sugar Bytes.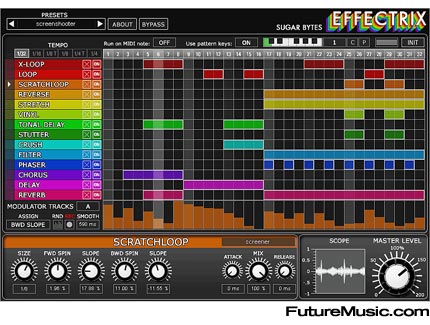 The Effectrix 1.0.1 update fixes all known bugs and contains a lot of improvements including:
• Vowel Mode fixed in Filter Effect
• FL Studio problems fixed
• Rtas Wrapper problems fixed
• Tempo control recall fixed
• Decay mode fixed in Looper Effects
• Size display fixed in Looper Effects
• Dry/Wet leveling improved in Looper Effects
• Retrigger behavior improved (now retriggers on seq-wraparound)
• Bypass fixed in Audio Unit
• Monotrack compatibility for Audio Unit
• Sync behavior improved in Stutter Effect
• Stop Mode improved in Vinyl Effect
• Wavescope fixed
• Graphical improvements
The Sugar-Bytes update is free for registered users. More information on Sugar-Bytes Effectrix.