Native Instruments Updates Guitar Rig To Version 3.1
Native Instruments has updated Guitar Rig to version 3.1. The new version offers optimized high-precision modeling for improved sound quality as well as several usability enhancements, further expanding the unique power and versatility that make Guitar Rig an ideal creative tool for modern guitarists and producers.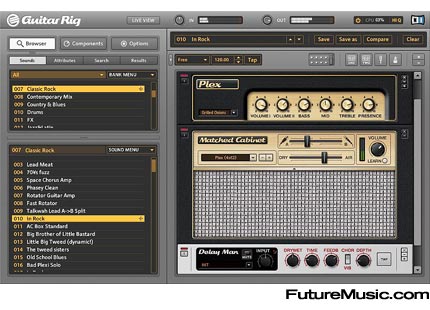 Based on recent engineering progress, Guitar Rig 3.1 has been equipped with optimized high-precision algorithms, which result in a significantly reduced noise floor for virtual amps and stomp box components with no increase in processor load. This now enables Guitar Rig to deliver rich, saturated high-gain tones without the usual amount of associated background hiss.
Further improvements in version 3.1 include the new ability to conveniently handle multiple rack components at once, an optimized Live View with more customization options, enhanced Rig Kontrol integration, extended support for external foot pedals, and a revised user manual.
Based on the many advances in the third generation of Guitar Rig, the system has recently been adopted by high-profile artists like Kirk Hammett from Metallica, Beck bassist Justin Meldal-Johnsen and YouTube virtuoso sensation Gustavo Guerra, and used as the main guitar recording solution in professional studio productions such as the upcoming Alanis Morissette album "Flavors of Entanglement".
Native Instruments' Guitar Rig 3.1 update is now available as a free download via their service center for registered users. More information on Native Instruments Guitar Rig 3.1.