VRSonic Premiers VibeStudio Designer 1 Spatial Audio Design Suite
VRSonic has released VibeStudio Designer 1, their spatial audio design suite that is comprised of Config, Profiler, VibeWorks, and VibeStation. All four applications rest on top of the complex modeling and rendering engine SoundScape3D. Together these applications create a one of a kind spatial audio package that provides the ability to both create dynamic audio content and compose spatial audio scenes.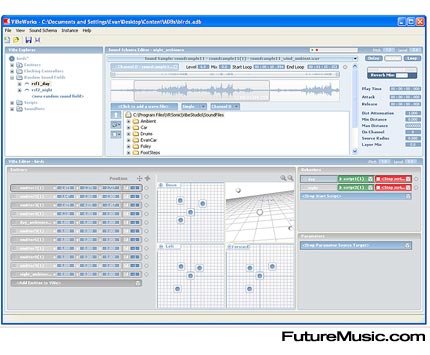 Built on VRSonic's SoundScape3DTM technology, VibeStudio Designer 1 gives sound designers the ability to render real time audio environments in a way that is both more intuitive and more powerful than ever before. VibeStudio Designer 1 is the result of more than a decade of research. Headed by VRSonic Founder and CEO, Dr. Hesham Fouad, the VRSonic development team has created a set of tools that will for the first time allow the interactive creation of highly dynamic immersive sonic environments.
Based on proprietary real-time, parallel scheduling algorithms, SoundScape3D utilizes the power of new multi-core processor technology to render a theoretically unlimited number of audio sources, while applying sophisticated reverb, occlusion, and motion algorithms in real time. "VibeStudio Designer 1 creates environments independently from the rendering process, so you can dynamically switch between presentation methods — from headphones using our own HRTF database, to up to 32 speakers using one of our panning algorithms," said Fouad. "Gone is the notion of separate audio mixes for stereo or 5.1."
VibeStudio Designer 1 is the first design suite specifically built for both content creation and rendering of dynamic and immersive spatial audio environments. Using this powerful suite of tools you can compose highly interactive audio scenes. Now audio designers can quickly and easily position audio emitters anywhere in the environment, apply a variety of motion algorithms and parameters to those emitters and dynamically control their behavior using never before seen sound animation technologies. Designers can also add geometric structures to the scene with acoustic properties and even apply material properties such as concrete, brick, glass, or lead to any structure in your scene. VibeStudio Designer 1 is a completely new way to think about audio.
VRSonic's VibeStudio Designer 1 is available now for the an introductory price of $1295. More information on VRSonic VibeStudio Designer 1.