Vestax Unveils Guber Home DJ System – CM-02 USB Turntable
Vestax has dropped the Güber CM-02 USB turntable in Japan. The USB turntable is a component of its compact Güber home stereo line, but DJs may want to incorporate it into their home systems due to its seductive form factor.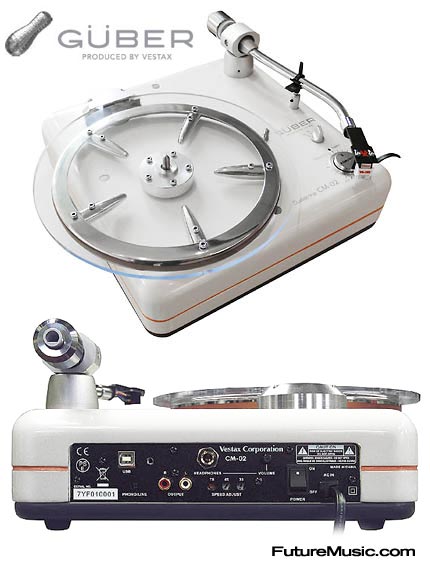 The Güber CM-02 is a belt-drive turntable that features a 240mm diameter thick acrylic platter, an aluminum tone arm, a built-in RIAA equalizer with bypass and 3-speed modes (33 / 45 / 78 rpm). The on/off rotary switch is combined with pitch control.
Features & Specs:
• Drive system: DC Servo Motor controlled Belt Drive
• Pitch Control: +/-10%(33rpm), +/-8%(45rpm), +/-3%(78rpm)
• WOW Flatter: under 0.15 W.R.M.S.
• Output Switch: LINE: -15dBV(0.16V) (33rpm 1kHz)
• Frequency Response: Within 100Hz~12kHz +/-3dB, 50Hz~15kHz
• SN Balance: over 68dB
• POWER: AC100V 50/60Hz
• Power Consumption: 2.2W
• Measure: W335 x H295 x D140 (Includes tone arm and platter)
• Weight: 5.0kg
• Attachments: LP record MM cartridge (with head shell)
• EP adaptor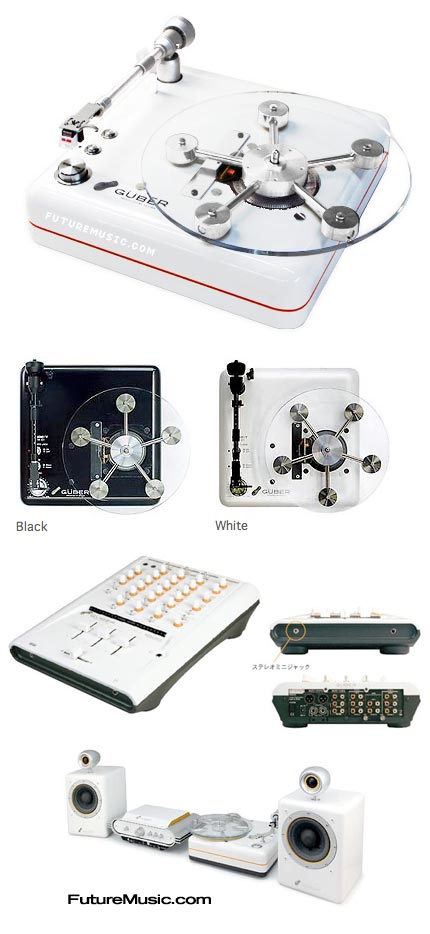 Some of the information we've received is conflicting and there's been no official press release in English on the new Güber line, which also includes a CM-01 Turntable available in Black and White with a straight tone arm, and the 180G DJ mixer. The Güber was designed from the ground up to work as a family of products, most likely as a sleek home stereo setup for DJs and dance music aficionados…
The Vestax Güber CM-02 USB turntable is available now in Japan starting at $225. More information on the Vestax Güber CM-02 USB turntable.